A Little Devil in America
In Praise of Black Performance
Format: Hardback
Publisher: Penguin Books Ltd
Published: 30th Mar '21
£18.99
Available to order, but very limited on stock. If we have issues obtaining a copy, we will let you know..
This hardback is available in another edition too: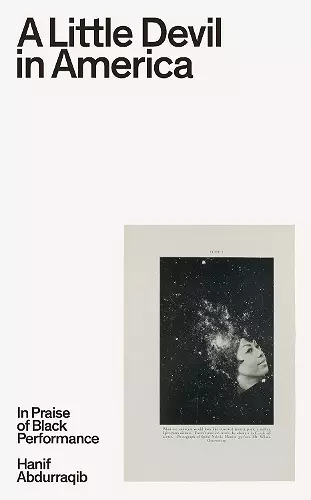 At the March on Washington in 1963, Josephine Baker was in a mood to reflect on her life and her legacy. She had spent decades as one of the most successful entertainers the world had ever seen, but, she told the crowd, "I was a devil in other countries, and I was a little devil in America, too". Inspired by these words, celebrated poet and music critic Hanif Abdurraqib has written a profound meditation on Black performance in the modern age, in which culture, history and his own lived experience collide.

In prose that brims with jubilation and pain, A Little Devil in America explores a sequence of iconic and intimate performances which take Abdurraqib from mid-century Paris to the moon-and back down again, to a cramped living room in Columbus, Ohio. Each moment in each performance he examines has layers of resonance in Black and white cultures, the politics of American empire, and his own personal history of love and grief-whether it's the twenty-seven seconds of 'Gimme Shelter' in which Merry Clayton sings, or the magnificent hours of Aretha Franklin's homegoing; Beyoncé's Super Bowl half-time show or a schoolyard fistfight; Dave Chapelle's skits or a game of spades among friends.

Infused with the lyricism and rhythm of the musicians Abdurraqib loves, and richly textured with compassion and humour, A Little Devil in America is a unique exaltation of Black performances, cultures and communities.
Hanif Abdurraqib's genius is in pinpointing those moments in American cultural history when Black people made lightning strike. But Black performance, Black artistry, Black freedom too often came at devastating price. The real devil in America is America itself, the one who stole the soul that he, through open eyes and fearless prose, snatches back. This is searing, revelatory, filled with utter heartbreak, and unstoppable joy. -- Marlon James, author of Black Leopard Red Wolf
A rapturous exploration of black genius. Whether heralding unsung entertainers or re-examining legends, Hanif Abdurraqib weaves together gorgeous essays that reveal the resilience, heartbreak, and joy within black performance. I read this book breathlessly. -- Brit Bennett * author of The Vanishing Half *
To read Hanif Abdurraqib is to be embraced in the middle of chaos. In his latest book, A Little Devil In America: In Praise of Black Performance, he does what many great writers do, which is to illuminate and join the dots between connections readers may once have failed to see. * Huck *
Abdurraqib is one of the most brilliant writers I've ever read. A Little Devil In America needs to be on every bedside table, every high school and college desktop - and basically, in this age of a revolution, this is that ONE book that everyone needs to read. Pure genius. I'm not even trying to get at even SOME of the brilliance Hanif gets to with this book-there is just too much. From Black Exceptionalism to Josephine Baker to Old Heads-he brings it and clarifies it, then shapes it into every bit of medicine we need right now. -- Jacqueline Woodson * author of Red at the Bone *
Poignant, powerful, candid, written with sincerity and emotion ... An important book * New York Times *
The most important cultural critic in America right now? This writer gets my vote. Abdurraqib has delivered a winner. * Chicago Tribune *
Hanif Abdurraqib has a way of taking slices of our cultural landscape, examining them, and transforming them into observations and analyses that leave me underlining the entire page. In A Little Devil In America, Abdurraqib brilliantly braids together history, criticism, and prose so stunning that it makes you want to read every word out loud just so you can hear its music. Everything Abdurraqib writes is a must-read, but this is his best yet. It is one of the most dynamic books I have ever read. -- Clint Smith
Blending pop-culture essays, memoir, and poetry, A Little Devil in America delves into the manyiterations of Black artistic expression through an often deeply personal lens ...Startling, layered, and timely, this is an essential, illuminating collection * Booklist (starred review) *
A thoughtful memoir rolled into a set of joined essays on life, death, and the Black experience in America... Social criticism, pop culture, and autobiography come together neatly in these pages, and every sentence is sharp, provocative, and self-aware ... A winner. -- Kirkus Reviews (*starred review*)
A Little Devil in America is so so heavy in some places that I have to take breaks. It just hurts to read some of these truths, woven in such beautiful writing. -- Yomi Sode
In this staggeringly intimate meditation, Abdurraqib shines a light on how Black artists have shaped-and been shaped by-American culture. His prose is reliably razor-sharp. Filled with nuance and lyricism, Abdurraqib's luminous survey is stunning. * Publishers Weekly (starred review) *
Abdurraqib pens respectful, heartwarming essays that reflect on giants in music, television, cinema, and even magic...his stories will inspire and provoke thoughtful meditations on how Black lives matter in all areas of life and art. * Library Journal (starred review) *
Abdurraqib uses his inimitable blend of incisive, piercing criticism and shimmering stream-of-consciousness to explore everything from the problem with praising Black women for being "vessels" who have "saved America" with their votes (he points out: "It occurred to me that Black women were simply attempting to save themselves") to Dave Chappelle's appeal to white audiences to the death of his mother. Moving, provocative, and infused with a singular lyricism, A Little Devil in America is an exultant blend of memoir and criticism, a must-read for anyone looking to better understand this country and its people. * Refinery29 *
It's an absolutely brilliant book from a critic who's become one of the country's most essential writers... To call Abdurraqib anything less than one of the best writers working in America, and to call this book anything less than a masterpiece, would be doing him, and literature as a whole, a disservice -- Michael Shaub * Minneapolis Star Tribune *
These 'notes in praise of Black performance' encompass dance, music, film, and standup, along with everyday affectations and embodiments of masculinity, fear, intimacy, and belonging. Subjects include Josephine Baker, Michael Jackson, blackface, "Soul Train," and brotherhood. ...Combines meditations on personal experiences-losing his mother, navigating the Midwestern punk scene-with affectionate studies of cultural moments and figures, beloved and under-sung alike. Abdurraqib views performance as an expression of life and a means of survival * The New Yorker *
[Abdurraqib] has brought to pop criticism and cultural history not just a poet's lyricism and imagery but also a scholar's rigor, a novelist's sense of character and place, and a punk-rocker's impulse to dislodge conventional wisdom from its moorings until something shakes loose and is exposed to audiences too lethargic to think or even react differently -- Gene Seymour * Bookforum *
A book that brims with wonder and introspection while also honoring the significance and contributions of so many of the lives within it. Abdurraqib's passions are fully on display, and his widespread love is infectious in the best way possible, resulting in a masterwork that will not only move readers but will also send them off into their own personal rabbit holes of joy and wonder. This is, perhaps, the greatest gift a writer can give to his readers, and A Little Devil in America delivers it in spades -- Daniel Modlin * The Daily Beast *
contemplative and scholarly... it is a joy to watch [Hanif's] mind work. In his new collection of interconnected essays, the author...excavates the bits of pop culture that often get paved over by white supremacy and our collective short-term memory. As for the parts we think we know - Abdurraqib has lots to say about Whitney Houston, Dave Chappelle, Green Book, Altamont, and more - it's his pointed and frequently personal re-examinations that set A Little Devil soaring -- Patrick Rapa * The Philadelphia Inquirer *
A vibrant showcase of sharp writing, Abdurraqib's A Little Devil in America attests that Black performance at its root is not simply an outward show of talent but also a means of survival. Read carefully. Abdurraqib's book is a challenge not to accept the usual explanations for the performances we witness. * BookPage *
Abdurraqib's great strength is his ability to present broad, canny observations through the lens of his personal experience, and his intimate exploration of what these specific moments meant to him as a Black Muslim coming of age in the US is what lingers long after you've finished the book * Buzzfeed *
Abdurraqib has written a profound reflection on how Black performance is woven into the fabric of American culture... A Little Devil in America is a joyous ode to Black performance throughout history. * PureWow *

Throughout, Abdurraqib writes with urgency as he highlights what these performances mean, how they connect to his own feelings on grief, love and life,
and where they fit into American history.
* TIME Magazine *
From Josephine Baker to Soul Train to 'Sixteen Ways of Looking at Blackface,'
Abdurraqib takes us on a wild ride through the history of Black performances,
artists who crushed boundaries and carved out spaces for vigorous forms of African American expression.
His is an intimate, conspiratorial voice, musically inflected, blending scholarship with anecdote
, a 'waltz in a circular chamber of your homies and not-homies, shouting chants of excitement.' * Oprah Magazine *
Abdurraqib breathes new life into performers of significance in his life, both legendary and unsung
* A.V. Club *
Abdurraqib is one of our finest writers period.
A brilliant poet, essayist and cultural critic, he handles nostalgia, pop culture, Blackness and friendship in ways few writers can
. Here, he examines Black America's changing views of Whitney Houston, the death of Michael Jackson, the spiritual properties of dancing, Afrofuturism and more. The early chapter "Sixteen Ways of Looking at Blackface" is a deeply humane piece of virtuoso writing.
Longer dispatches are broken up by lyric, stream-of-consciousness pieces that refresh the soul and remind readers that there's little Abdurraqib can't do
-- Aarik Danielsen * Columbia Star Tribune *
In his new collection of essays,
A Little Devil in America
, the poet and critic Hanif Abdurraqib surveys this sprawl of expression. Here he charges himself with quite an ambitious task,
pinning down and contextualizing the historic scale of such a globally significant cultural output
, and it is one that would appear to call for an equally ambitious scope...
Contemplations of legendary voices, sleights of hand, and charismatic choreographies are in dialogue with his own stories of grief, love, faith, and the search for freedom within the confinements of borders and a body...Abdurraqib expands the conception of "performance" to include the whole realm of behavior and culture
...
Playfulness, seduction, artistry, and reinvention: Abdurraqib wants us to know that these devilish gestures have their place
, too, among the saints that line the corridors in this tiresome, captivating, and essential struggle * The Nation *
In
A Little Devil in America,
Abdurraqib walks readers through Black archives of dance, film, social struggle, and song as though these "intimate histories" of performance (as Saidiya Hartman calls them) could free us from anything that misses the beat. For this collection of essays,
he does the work of a DJ: he digs through the crates, selects the most appropriately unexpected songs/topics/subjects, builds a collage between cuts and scratches, and presents his set.
His books are soundscapes in print, and I was somehow listening to each sentence as if it were a breakbeat of personal narrative and socio-historical commentary...Hanif is one of the most exciting writers of his generation
* Los Angeles Review of Books *
Abdurraqib, known for his playful, intelligent sense of humor on Twitter,
highlights amazing performances that shed light on societal constructions and moments of sheer joy
his book about Black culture in America.
Writing about joy is challenging; falling back on cliche is a constant temptation that Abdurraqib avoids in this insightful tome
* Forbes *
That
sense of limitlessness wraps itself around every essay
in Abdurraqib's newest book,
A Little Devil in America: Notes in Praise of Black Performance
. In it, he writes about Black performance in America-from Great Depression-era dance marathons to the enduring cool of Don Cornelius to the art of Mike Tyson entering a boxing ring-
with both great reverence and rigorous analysis. The book, in the way Abdurraqib's work so often does, erects monuments to our should-be legends and our unignorable icons alike, and paints an expansive, deeply felt portrait of the history of Black artistry
-- Leah Johnson * Electric Literature *
This
deft consideration
of seemingly irreconcilable values,
between the personal and private dimensions of performance,
can be found throughout the essays in A Little Devil in America...
Abdurraqib sees performance as a site of radical questioning, experimentation, and dream-making. This book is not a work of theory. It is sensual.
We watch him watching his idols and we watch him dancing along with them, sometimes clumsily. If Brooks's goal is to make a case for performers' intellectualism,
Abdurraqib's is to help us understand how they teach us to live richer, more embodied lives
-- Danielle A. Jackson * Vulture *
Engrossing and moving ... A new, poetic take on essays that, I think, changes the game in many ways.
-- Roger Robinson * New Statesman Books of the Year *
Astonishing, impressive ... the connections he makes point to the enduring influence of Black art ... a book as bold as it is essential
* TIME Book of the Year *
ISBN: 9780241503577
Dimensions: 222mm x 144mm x 31mm
Weight: 437g
320 pages