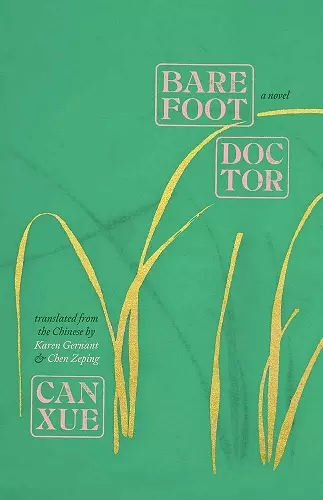 A profound, poignant story of a village healer and her community, from one of the world's great contemporary novelists
 
"A complex and illuminating portrait of a group of healers in China . . . [that] offers profound insights about what it means to pursue and live a fulfilling life."—Publishers Weekly
 
"A barefoot doctor herself, [Can Xue] has a unique and powerful way of transporting readers to new worlds where reality and magic are intertwined, and she uses her own experiences to make this novel feel more personal."—Emily Park, Booklist
 
In rural Yun Village, herbalist Mrs. Yi lives with her husband in a cottage at the foot of Niulan Mountain, where she gathers herbs to treat the ailments of the villagers by day and studies medicine by night. Sickness and herbs are lovers, she tells her patients, rejoicing when they recover, comforting them when they do not. All the while, she hopes to find a worthy successor to take up her mantle. As curious younger villagers observe Mrs. Yi and begin imitating her work—planting gardens and studying the art of healing—they soon discover that the line dividing life from death is porous, and the mountain is more mysterious than they ever knew.
 
Drawing on her experiences as a barefoot doctor in her youth, Can Xue returns with a transporting novel that alights in the in-between spaces: between the living and the dead, healer and sick, nature and us.
Named by the New Yorker as a Best Book of 2022

"During the Cultural Revolution, minimally trained 'barefoot doctors' were sent to the Chinese countryside. . . . The author of this novel was one of them, and she draws on her experiences in the story of Mrs. Yi, a village herbalist who gathers her remedies on a nearby mountain . . . [but] events become increasingly surreal. As the mountain changes shape and ghosts visit the living, mysterious connections between the body and nature emerge."—New Yorker

"A complex and illuminating portrait of a group of healers in China . . . [that] offers profound insights about what it means to pursue and live a fulfilling life."—Publishers Weekly

"Out of all of Can Xue's books in English translation, this novel is especially intimate, as she was a barefoot doctor herself once upon a time. I have no choice but to call this novel my favorite of hers yet—a feeling I have with every single book."—Porochista Khakpour, author of Brown Album

"In Can Xue's world eccentricity is the rule, and conversations are vital and multi-directional. It's a constantly relational world, everyone is desiring, love is at the heart of her fiction. And what a love it is, random, magical, producing bursts of calm—which is why I read every one of Can Xue's books. Can Xue is always an inestimable find."—Eileen Myles, poet and author of For Now

"The true daughter of Kafka and Borges, Can Xue possesses one of the most glorious, original, vivid, poignant, hellacious imaginations on the planet. No reader emerges from her powerful fictional dreams unscathed, for her work is as dangerous as it is beautiful. She can infiltrate the deepest part of our human experience with such subtlety and totality that it takes my breath away."—Bradford Morrow, author of The Prague Sonata

Praise for the author:
 
"There's a new world master among us and her name is Can Xue."—Robert Coover
 
"If China has one possibility of a Nobel laureate it is Can Xue."—Susan Sontag
 
"There's something inescapably cosmic about [Can Xue's] writing: the grandness of her vision, the abstraction of her thought, the way the details of lived reality seem to shrink and assume an equal significance, as though one were orbiting a distant star and peering down."—Bailey Trela, Los Angeles Review of Books
 
"Can Xue is a master at twisting philosophical ideas into realities that seem simple but are incredibly thoughtful and intricate."—Emily Park, Booklist
 
"There's no other writer in China like Can Xue."—Chad Post, Publishers Weekly


ISBN: 9780300259636
Dimensions: unknown
Weight: unknown
272 pages