I Know a Secret
(Rizzoli & Isles 12)
Format:Paperback
Publisher:Transworld Publishers Ltd
Published:19th Apr '18
£8.99
Available to order, but very limited on stock - if we have issues obtaining a copy, we will let you know.
This paperback is available in another edition too: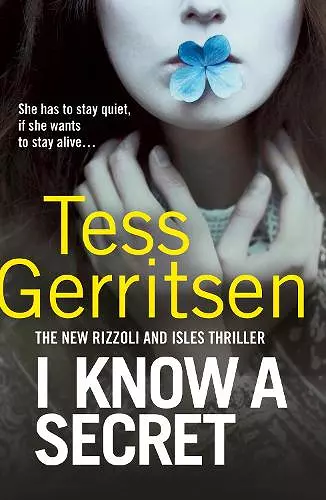 The eagerly anticipated new Rizzoli & Isles thriller from No. 1 bestselling author Tess Gerritsen.
'Expect a white-knuckle ride to very dark places.' Paula Hawkins

When a young woman is found dead, Detective Jane Rizzoli and Forensic Pathologist Maura Isles are called to the scene of the murder.
'Expect a white-knuckle ride to very dark places.' Paula Hawkins

When a young woman is found dead, Detective Jane Rizzoli and Forensic Pathologist Maura Isles are called to the scene of the murder. Though the body bears startling wounds, the actual cause of death is not immediately clear.

A few days later, another body is discovered – a seemingly unrelated crime, but the lack of an obvious cause of death shows they have more in common than it would first appear.

As Rizzoli and Isles race to discover the link between the victims before the killer can strike again, a mysterious person watches from the sidelines. She has the answers they're looking for.

But she knows she has to stay quiet, if she wants to stay alive . . .

'A fast-paced, dark, edgy mystery/thriller filled with unremitting suspense.' Huffington Post
Tess Gerritsen's clever plotting and medical knowledge give her thrillers that extra edge. Expect a white-knuckle ride to very dark places. * Paula Hawkins, bestselling author of THE GIRL ON THE TRAIN *
A fast-paced, dark, edgy mystery/thriller filled with unremitting suspense. * Huffington Post *
ISBN: 9780857502155
Dimensions: 198mm x 127mm x 25mm
Weight: 283g
416 pages