The Unheard
Format:Hardback
Publisher:Simon & Schuster Ltd
Published:16th Sep '21
Currently unavailable, and unfortunately no date known when it will be back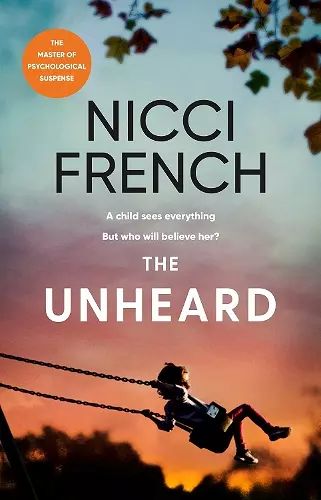 THE MASTER OF PSYCHOLOGICAL THRILLERS, BRINGING DANGER CLOSE TO HOME . . . 
When nobody is listening, how do you make yourself heard? 'An intense, brilliantly crafted thriller that hums with menace from start to finish' TM Logan
 
'He did kill. Kill and kill and kill.'
 
Tess's number one priority has always been her three-year-old daughter Poppy. But splitting up with Poppy's father Jason means that she cannot always be there to keep her daughter safe.
 
When she finds a disturbing drawing, dark and menacing, among her daughter's brightly coloured paintings, Tess is convinced that Poppy has witnessed something terrible. Something that her young mind is struggling to put into words.
 
But no one will listen. It's only a child's drawing, isn't it?
 
Tess will protect Poppy, whatever the price. But when she doesn't know what, or who, she is protecting her from, how can she possibly know who to trust . . . ?  

                                                                                                              
Praise for Nicci French:
 
'Expertly paced, psychologically sharp, thoroughly enjoyable' Louise Candlish
'Meticulously plotted, psychologically astute' Sarah Vaughan
'A heart-wrenchingly plausible spiral into paranoia, fear and unbearable tension. Literally pulse-pounding' Christopher Brookmyre
'Totally absorbing. Such great plotting and characters, but also so human and full of insights about ordinary life and relationships. That's what always sets Nicci French's work apart - it makes the narrative feel so real' Sabine Durrant
'I love Nicci French's books, and with The Unheard they are right at the top of their game. Few crime writers can match their psychological acuity, of their ability to lead a reader through dizzying plot twists without ever losing pace. It's an absolute masterclass of crime writing' Kate Rhodes
'Utterly absorbing, brilliantly plotted, twisty and original' Rachel Abbott
'Great writing, razor-sharp plotting, and powerful characterisation. I was 100 pages in before I even drew breath, and I defy anyone to see the ending coming' Cara Hunter
'It's Nicci French perfection – which, as we all know, is the best kind of perfection. So, so gripping and brilliantly clued' Sophie Hannah
'What an intriguing, compelling page-turner. I ate it up...
'I love Nicci French's books, and with The Unheard they are right at the top of their game. Few crime writers can match their psychological acuity, of their ability to lead a reader through dizzying plot twists without ever losing pace. It's an absolute masterclass of crime writing'  -- Kate Rhodes, author of the Locked-Island Mystery series
'What an intriguing, compelling page-turner. I ate it up in two days'  -- Liz Nugent, author of Our Little Cruelties
'The Nicci French duo have been on a strong run since reverting to non-series thrillers, and it continues with The Unheard… This is a mesmerising portrait of a child under stress, observed obsessively because every tiny trait is a possible clue to an important crime' * Sunday Times *
'A haunting investigation of our darkest fears' * Mail on Sunday *
'Utterly absorbing, brilliantly plotted, twisty and original'  -- Rachel Abbott, author of the DCI Tom Douglas thrillers
'An intense, brilliantly crafted thriller that hums with menace from start to finish' -- TM Logan
'The Unheard is the sort of book that makes you miss your bus stop' * The Times *
'In the very capable hands of the dynamic writing duo known as Nicci French, the big reveal is sophisticated, satisfying and very surprising' * Daily Mail *
'The Unheard is excellent – a breathless read brimming with misdirection and fear' * The Observer *
'Husband-and-wife team of Nicci Gerrard and Sean French tackle the subject of how difficult is it for people with a background of mental illness to be taken seriously… Tess is an excellent mother and an appealing character, as is Poppy. If some of Tess's activities are morally dubious, at least they are impelled by something other than the selfish desire for gratification pursued by more than one of the suspects in this fast-moving domestic thriller' * Literary Review *
'The police don't smell a rat. They see no crime. Narrator Tess is wasting their time with her crazed conviction that her daughter, Poppy, has witnessed an atrocity. A three-year-old cannot tell what she saw, but there is a menacing drawing, strange utterances, disturbed behaviour. Can Jason Poppy's father, be trusted? Can anyone? The usual French polish from an accomplished husband-and-wife duo' * Saga *
'Husband and wife duo Nicci Gerrard and Sean French have created another enthralling, tantalisingly twisty read' * Heat *
'Confirms Nicci French as the giant of the genre'  -- Erin Kelly
'A mesmerising portrait of a child under stress, observed obsessively because every tiny trait is a possible clue to an important crime'    * Sunday Times, best paperbacks of 2022 *
ISBN: 9781471179310
Dimensions: 234mm x 153mm x 32mm
Weight: unknown
464 pages