Steeple Chasing
Around Britain by Church
Format:Hardback
Publisher:Headline Publishing Group
Published:11th May '23
£22.00
Available for immediate dispatch.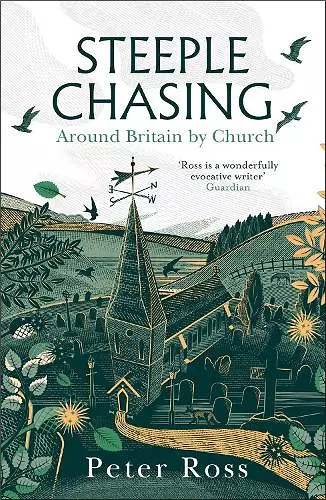 From the author of A Tomb With a View - a celebration of the weird and wonderful churches of Britain
'What makes Steeple Chasing so compelling - and it is a wonderful book; thoughtful and challenging - is Ross's essential kindness, his unfailing empathy with the people he meets on his pilgrimage.' - Daily Telegraph *****

'Steeple Chasing is a beautiful and brilliant book; written with such care and deep, abiding interest in its subject matter as to entrance the enthusiast and amateur alike. I loved it.' - Fergus Butler-Gallie

'Ross has always had a quiet charm, and it is perhaps displayed best in this book. ' - The Scotsman

From the author of A Tomb With a View - Scottish Non-Fiction book of the Year

Churches are all around us. Their steeples remain landmarks in our towns, villages and cities, even as their influence and authority has waned. They contain art and architectural wonders - one huge gallery scattered, like a handful of jewels, across these isles.

Award-winning writer Peter Ross sets out to tell their stories, and through them a story of Britain. Join him as he visits the unassuming Norfolk church which contains a disturbing secret, and London's mighty cathedrals with their histories of fire and love. Meet cats and bats, monks and druids, angels of oak and steel.

Steeple Chasing, though it sometimes strikes an elegiac note, is a song of praise. It celebrates churches for their beauty and meaning, and for the tales they tell. It is about people as much as place, flesh and bone not just flint and stone. From the painted hells of Surrey to the holy wells of Wales, consider this a travel book . . . with bells on.

Praise for Peter Ross

'Ross is a wonderfully evocative writer, deftly capturing a sense of place and history, while bringing a deep humanity to his subject. He has written a delightful book.' - The Guardian

'Fascinating . . . Ross makes a likeably idiosyncratic guide and one finishes the book feeling strangely optimistic about the inevitable.' - The Observer

'The author's humanity has acted as a beacon of light in the darkness.' - The Sunday...
What makes Steeple Chasing so compelling - and it is a wonderful book; thoughtful and challenging - ... is Ross's essential kindness, his unfailing empathy with the people he meets on his pilgrimage. * Daily Telegraph *
His book is a delicious treat, and one that both believers and sceptics will enjoy. * Financial Times *
Reading a book is another reciprocal act: if it's good, it stays with you. Ross's readers will have his words humming through them for a long time. * Spectator *
Lovely, lyrical, whimsical, elegiac ... Ross has a gift for making you feel you're there with him, just as awed as he is. * Times Literary Supplement *
Ross has always had a quiet charm, and it is perhaps displayed best in this book. . . it is properly interested in humanity, especially in its complexity. * Scotsman *
Steeple Chasing is, as you might expect from Ross, itself a beautiful object, full of delicacy and deliberation in the writing. . .a fascinating, beautifully written book full of both the strange and the terrible, but also full of grace and love. * Herald Scotland *
Beautifully observed and evocatively written. * Country Life *
Never less than fascinating. * Books From Scotland *
ISBN: 9781472281920
Dimensions: 240mm x 162mm x 42mm
Weight: 620g
400 pages