Dig, Dig, Digger
Format: Hardback
Publisher: Pan Macmillan
Published: 26th Jan '23
£12.99
Available, normally delivered within 3-6 days.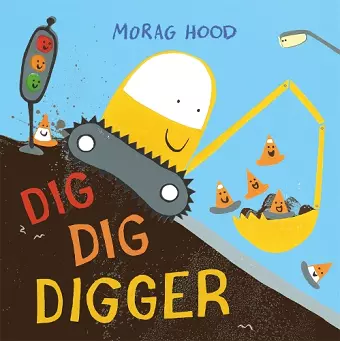 One small digger has a very big adventure in this sweet and funny story for young children.
A digger's grand adventure, perfect for all young children.
It is a day like any other at the roadworks when Digger decides she no longer likes digging down into mud, dark and worms – she wants to dig UP! Although up is quite tricky to get to, with some ingenuity and balloons, Digger goes off on a grand adventure. But adventures aren't as fun without friends, so Digger must dig her way home.

With a witty text, bright colours and a finger trail to follow from the award-winning Morag Hood, young children and adults will love reading Dig, Dig, Digger! together.
"A simple picture book with a lot going on" (The Best Books for Children 2023) -- Nicolette Jones, The Times * https://www.thetimes.co.uk/article/the-best-books-for-children-2023-7vc7q3c39 *
ISBN: 9781509889860
Dimensions: 227mm x 228mm x 11mm
Weight: 318g
32 pages