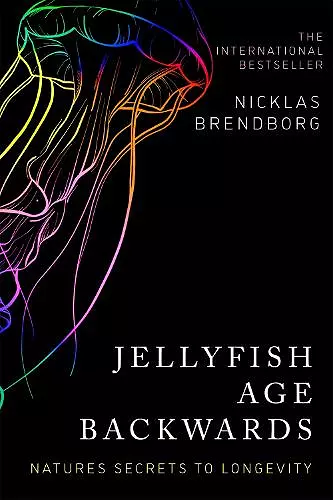 THE INTERNATIONAL BESTSELLER: a deep dive into the science and nature of aging
~~A TIMES BEST BOOK OF 2022~~

'In a field characterised by overclaiming and wishful thinking, it is judicious, sensible and refreshingly clear. And fascinating.' The Sunday Times

'A hugely enjoyable slice of popular science, full of memorable facts and sound advice.' Daily Mail

'Brendborg takes us on a whistle-stop tour of the science of ageing... he navigates this bustling discipline with graceful clarity, dispelling common myths along the way.' New Scientist

A deep-dive into the astonishing nature and true science of longevity

Molecular Biologist Nicklas Brendborg takes us on a journey from the farthest reaches of the globe to the most cutting-edge research to explore everything the natural world and science have to offer on the mystery of aging.

From the centuries-old Greenland shark and backwards-aging jellyfish to the man who fasted for a year and the woman who successfully edited her own DNA, this book follows the thread of every experiment, story, and myth in the search for immortality.

With mind-bending discoveries and physiological gifts that feel closer to magic than reality, Jellyfish Age Backwards will reshape everything you thought you knew about aging - and offer nature's secrets to unlocking your own longevity.
In a field characterised by overclaiming and wishful thinking, it is judicious, sensible and refreshingly clear. And fascinating. * Sunday Times *
Nicklas Brendborg takes us on a whistle-stop tour of the science of ageing... he navigates this bustling discipline with graceful clarity, dispelling common myths along the way. * New Scientist *
A hugely enjoyable slice of popular science, full of memorable facts and sound advice. * Daily Mail *
Some species are effectively immortal, others induce suspended animation, others age backwards. And all humans do is senesce, so that everything from our minds down to each cell becomes more fragile and less resilient. Nicklas Brendborg accessibly guides the non-scientist through the science of aging and what's known about making it slower and gentler (along with judiciously debunking the ample pseudo-science). All written with a fun, appealing voice, making for a surprisingly upbeat read. -- Dr Robert Sapolsky, bestselling author of BEHAVE
This book will make readers marvel at the possibilities held by scientific discovery, and most of all at nature * Nature Aging *
I loved it. Bursting with insight and fabulous facts. The brain boost it gives you is enough to make you feel ten years younger on its own! -- Matt Warren, editor of The Conversation
Brendborg explores what could be a complicated and heavy subject so intriguingly, funnily and in such an accessible manner, that the end result is something that even traditionally fiction readers would enjoy. * Publishing Post *
Clear and fascinating * The Sunday Times, Best Summer Reads *
A highly-entertaining journey through the science of longevity. Why we age, and what we can do about it, explained in a clear and captivating way. A wonderful book * Dr Kris Verbugh, Author of The Longevity Code *
Aging can be delayed, prevented, and even reversed in several examples. Brendborg's book is storytelling that spans history and science, goes from nature to the laboratories, and discusses how we got here, what the future is and where we are going. Nicklas is young enough to grasp the details and connectivity yet mature enough to practice wisdom and manage expectations like a true geroscientist * Dr Nir Barzilai, author of Age Later *
ISBN: 9781529387902
Dimensions: 238mm x 162mm x 32mm
Weight: 478g
288 pages