This is a special Signed First Edition, and has very limited quantity available
Ashes and Stones Signed First Edition
A Scottish Journey in Search of Witches and Witness
Format:Hardback
Publisher:Hodder & Stoughton
Published:19th Jan '23
£18.99
Available to order, but very limited on stock - if we have issues obtaining a copy, we will let you know. Limited to 1 items per-person.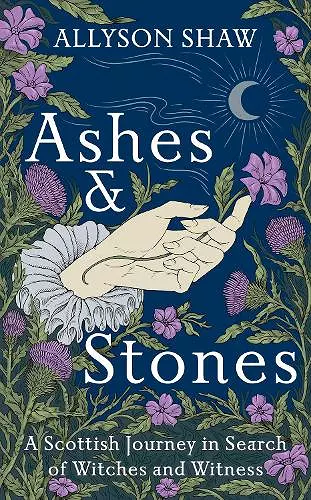 A beautifully written journey through Scottish history and across the Scottish landscape in search of the women accused and killed during the witch hunts
This edition comes with an Ashes & Stones postcard and folded poster map of Scottish witches.
'Beautiful... A moving reminder for us all to connect with what's gone before' STYLISTA moving and personal journey, along rugged coasts and through remote villages and cities, in search of the traces of those accused of witchcraft in seventeenth-century Scotland.In Ashes and Stones we visit modern memorials and standing stones, and roam among forests and hedge mazes, folklore and political fantasies. From fairy hills to forgotten caves, we explore a spellbound landscape.Allyson Shaw untangles the myth of witchcraft and gives voice to those erased by it. Her elegant and lucid prose weaves together threads of history and feminist reclamation to create a vibrant memorial. This is the untold story of the witches' monuments of Scotland and the women's lives they mark. Ashes and Stones is a trove of folklore linking the lives of contemporary women to the horrors of the past, a record of resilience and a call to choose and remember our ancestors.'Allyson Shaw has built a monument in words to the thousands persecuted as witches in Scotland. A fascinating and necessary book.' Peter Ross

'A compelling and intimate pilgrimage across Scotland' Helen Callaghan
Allyson Shaw has built a monument in words to the thousands persecuted as witches in Scotland. A fascinating and necessary book. -- Peter Ross
In Ashes and Stone Shaw has written a compelling and intimate pilgrimage across Scotland as she visits the sites of notorious witch trials to connect with and comment on the memorials left there to the murdered people who perished through greed, misogyny, and superstition . . . The book is a fascinating exploration of the search for personal identity, the ever-present dangers of religious and political extremism, and how we examine and process the murderous injustices from our past -- Helen Callaghan
Beautiful . . . A moving reminder for us all to connect with what's gone before * Stylist *
Wonderful . . . Powerful . . . it will make you angry, it will make you sad, it will make you want to know so much more * The Scots Whay Hae! Show *
ISBN: 9781529395457-SF
Dimensions: 220mm x 142mm x 28mm
Weight: 440g
304 pages