A Brief History of Seven Killings
WINNER OF THE MAN BOOKER PRIZE 2015
Format:Paperback
Publisher:Oneworld Publications
Published:4th Jun '15
£9.99
Available for immediate dispatch.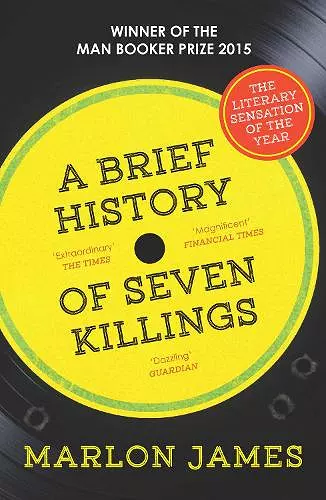 WINNER OF THE MAN BOOKER PRIZE 2015. A masterfully written novel that explores the attempted assassination of Bob Marley in the late 1970s.
The extraordinary modern classic about the attempted assassination of Bob Marley

THE MUST-READ MODERN CLASSIC ABOUT THE ATTEMPTED ASSASSINATION OF BOB MARLEY
'Epic in every sense of the word' New York Times
Jamaica, 1976. Seven gunmen storm Bob Marley's house, machine guns blazing.
The reggae superstar survives.
The gunmen are never caught. 
Marlon James' dazzling novel reimagines an event that has become a modern myth. Spanning three decades, A Brief History of Seven Killings chronicles the lives of a host of unforgettable characters: slum kids, one-night stands, drug lords, girlfriends, gunmen, journalists and even the CIA.
Gripping and inventive, ambitious and mesmerising, this is a stunning new edition of one of the most acclaimed novels of the twenty-first century. 
'Showcases the extraordinary capabilities of a writer whose importance can scarcely be questioned' Independent
'James has triumphed in capturing the tension, the politics, the heat, chaos, beauty and music of Jamaica.' Financial Times
'Vast and vastly ambitious... much to admire... fascinating... the author's imaginative and stylistic range are impressive.' The Sunday Times
'Vast and teeming … A vivid novel that deserves all the praise it has received.' Sunday Telegraph
'Breaks new ground… A very fluid and superbly controlled work.' Spectator
'The ambition is huge, but [James] pulls it off with huge style, confidence, imagination and wit... Extraordinary.' The Times
'The hottest name in Caribbean literature right now.' GQ, 'Best Books of 2014'
'When reading reviews of Night Women, James apparently became bored with comparisons to Toni Morrison; and with A Brief History, he's got bored with comparisons to Quentin Tarantino. But it is hard not to see the strength of that comparison.' Guardian
'Epic in every sense of that word: sweeping, mythic, over-the-top, colossal and dizzyingly complex... A testament to Mr. James's vaulting ambition and prodigious talent.' New York Times
'James' intoxicating prose is relentless, feverishly up-close inside his characters' rattled nerves even as the narrative scope widens into an evocative portrait of the author's native Kingston.' Entertainment Weekly, 'Ten Best Fiction Books of the Decade'
'Not only persuasive, but tragic, though in its polyphony and scope it's more than that... Comic, surreal, nightmarish, parodic.' New York Times Book Review
Winner of Man Booker Prize 2015 (UK)
ISBN: 9781780746357
Dimensions: 198mm x 129mm x 30mm
Weight: unknown
704 pages