A Yard of Sky
Nazanin Zaghari-Ratcliffe author
Format:Hardback
Publisher:Vintage
Published:12th Oct '23
£25.00
This title is due to be published on 12th October, and will be despatched as soon as possible.
This hardback is available in another edition too: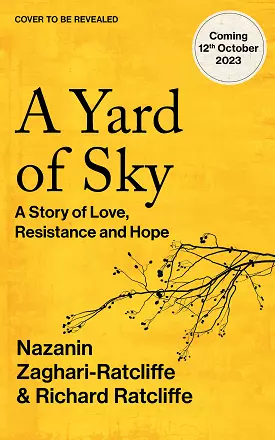 On 3 April 2016 Nazanin Zaghari-Ratcliffe was at Tehran airport, getting ready to board her flight with her baby daughter. They'd been visiting family in Iran, and were looking forward to getting home and seeing Richard, who would be there to meet them.  
When a man suddenly appeared and marched Nazanin away, they couldn't know their family was about to be changed forever. That moment would test their love, confront five foreign secretaries and take an ordinary family behind the curtain of international hostage diplomacy and secret debts. Their story galvanised a campaign of hope for millions, which would eventually free Nazanin and bring her home.
Six years later, almost to the day, Nazanin landed back in the UK. This is the full account of that long journey, told by Nazanin and Richard for the very first time.
Nazanin Zaghari-Ratcliffe says:'In prison, the idea of a "yard of sky" gave me hope and it feels right it becomes the title of our book. Writing it has helped me rediscover some of what it means to be normal again. This book is about the power of speaking, but also of listening. It is my chance to tell my side of the story for the first time after years of enforced silence. Richard and I went into this alone, but we survived it together and now we are looking forward to sharing our story.'
Richard Ratcliffe says: 'Writing our story has been a process of rediscovery. We both lived the last six years day to day, selectively forgetting, learning not to dwell on the cruellest things. Some of them I have understood fully only now. Writing has allowed us to reflect on how we endured, how we survived, how we found colour and sunlight in our "yard of sky". There was a lot of politics in our story for an ordinary family to cope with, but also a lot of humanity. I always felt with our campaigning that if enough people cared, the right people would care enough. In the end that was true.
Our book is a warning and a witness: hostage diplomacy still continues, others are caught in government games. But it is also a story of hope, because of the power of public care.'
ISBN: 9781784745219
Dimensions: 243mm x 153mm x 10mm
Weight: 700g