PURGATORY
Dante's Divine Trilogy Part Two. Englished in Prosaic Verse by Alasdair Gray
Alasdair Gray author Dante Alighieri author
Format:Hardback
Publisher:Canongate Books
Published:3rd Oct '19
£14.99
Available to order, but very limited on stock - if we have issues obtaining a copy, we will let you know.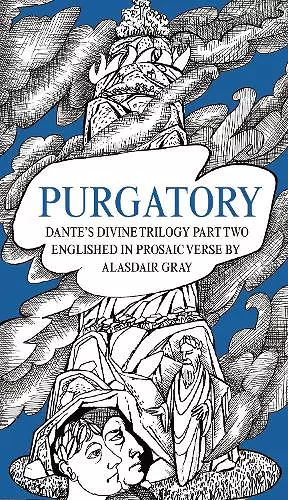 Alasdair Gray's remarkable interpretation of Dante's La Divina Commedia continues
In part two of La Divina Commedia, one of the masterpieces of world literature, Dante and his guide, the poet Virgil, must enter and traverse Purgatory and the seven deadly sins in their quest to reach Heaven. In this colloquial version of Dante's masterpiece, Alasdair Gray offers an original translation in his own unique idiom.

Lyrical and modern, this remarkable edition yokes two great literary minds, seven hundred years apart, and brings the classic text alive for the twenty-first century.
Lucid, lyrical, imaginative . . . Purgatory is a finely produced book, decorated with an exuberant cover by the author * * Times Literary Supplement * *
An ancient masterpiece glistens again as his lyricism takes flight, while keeping one foot balanced on solid ground . . . Gray turns Dante's language into clear English, sometimes with a playful comic turn . . . Remarkable * * i * *
Rich in vivid imagery . . . Dante's voice, even when rendered into English-language prose, resonates across the centuries, occasionally addressing the reader directly in a thrilling breaking of the fourth wall. Some cantos even end in a cliffhanger, making Purgatory surprisingly readable and engaging; this is no stuffy old classic * * Herald * *
This slim but handsome volume sees Glasgow author Gray complete part two of his translation of Dante's Divine Comedy . . . If you've ever wanted to try the classic, but have been daunted, now is your chance * * Sunday Post * *
PRAISE FOR HELL: Alasdair Gray has cast a spell over Dante's Hell, creating (and decorating) a verse translation that is modern, lyrical, yet faithful to the original * * New Statesman, Best Books of 2018 * *
Powerfully conveys the appalling nature of a vision which has terrified and enthralled Western men and women down the centuries * * Times Literary Supplement * *
No other translator has made the narratives so clear or strong, and the distinctive power of the work lies in the clarity of the storytelling . . . This Hell is a magnificent feat of reimagining of one of the greatest of all human creations * * Herald * *
Slick, easy to read . . . Gray is rather good at catching the colloquial nature of the poem . . . An excellent primer to Dante . . . In terms of verve, vim and vigour Gray has succeeded here. It is, if such a thing can be, an "easy" Dante, and one that does capture the comedy as well as the pathos and anguish of the poem * * Scotsman * *
PRAISE FOR ALASDAIR GRAY: A necessary genius -- ALI SMITH
The best Scottish novelist since Sir Walter Scott -- ANTHONY BURGESS
ISBN: 9781786894731
Dimensions: 240mm x 144mm x 18mm
Weight: 292g
144 pages
Main