Under the Blue
Format: Hardback
Publisher: Profile Books Ltd
Published: 11th Mar '21
£14.99
Available to order, but very limited on stock. If we have issues obtaining a copy, we will let you know..
This hardback is available in another edition too: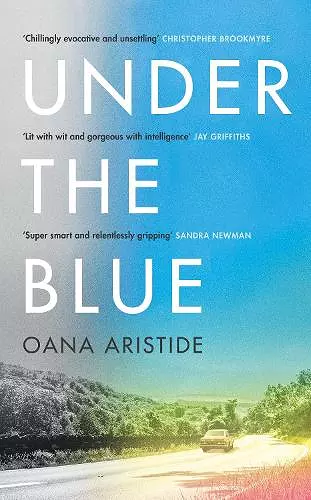 A lead debut novel: a literary thriller about a pandemic, the rise of AI, and how - or why - we might save the human race.
Metro Best New Books to Read in Spring Pick Glossary Magazine Highly Anticipated Fiction Pick Selected for The Times Best Science Fiction of 2021 'Achingly believable, unsensational, and chilling' The Times 'Chilling, cryptic-apocalyptic, and highly thought-provoking' Andrew Hunter Murray, Sunday Times Best-selling author of The Last Day 'Highly readable and hugely important ­- an apocalyptic road trip into our near future informed and shaped by the most pressing issues of our present' Owen Sheers, author of Resistance A road trip beneath clear blue skies and a blazing sun: a reclusive artist is forced to abandon his home and follow two young sisters across a post-pandemic Europe in search of a safe place. Is this the end of the world? Meanwhile two computer scientists have been educating their baby in a remote location. Their baby is called Talos, and he is an advanced AI program. Every week they feed him data, starting from the beginning of written history, era by era, and ask him to predict what will happen next to the human race. At the same time they're involved in an increasingly fraught philosophical debate about why human life is sacred and why the purpose for which he was built - to predict threats to human life to help us avoid them - is a worthwhile and ethical pursuit. These two strands come together in a way that is always suspenseful, surprising and intellectually provocative: this is an extraordinarily prescient and vital work of fiction - an apocalyptic road novel to frighten and thrill.
Under the Blue is a novel with a terrible beauty. Oana Aristide gives us so much to think about: environmental destruction, the melting of the polar ice, eco-terrorism, but all within a heart-stopping story of three survivors travelling through Europe alone. I couldn't look away -- Claire Fuller, author * Bitter Orange *
A super-smart and relentlessly gripping addition to the ecofiction genre, Under the Blue is by turns chilling, incisive, and casually hilarious. It also features one of the most convincing sentient-AI characters in recent fiction -- Sandra Newman, author * The Heavens *
A book of insight and foresight, lit with wit and gorgeous with intelligence -- Jay Griffiths, author * Wild: An Elemental Journey *
The discussions between human and AI are fascinating, revealing different ways of perceiving reality ... a beautifully written, emotionally gripping book. -- Guardian
Beautifully written, filmic. -- Rosa Rankin Gee, author of Dreamland
Oana Aristide has woven deep questions about ethics, artificial intelligence, our treatment of the natural world and the prospect of human extinction into a page-turning thriller with a surprising ending -- Peter Singer, author * The Most Good You Can Do *
Chillingly evocative and relentlessly unsettling. A compelling battle for humanity's survival fought simultaneously on both the physical and intellectual fronts. -- Chris Brookmyre
Highly readable and chilling. Threads together a pandemic storyline with the implications of AI in a way that is very intriguing and especially relevant today -- Mark Lynas, author * Our Final Warning: Six Degrees of Climate Emergency *
Under the Blue fuses the 'keep moving' urgency that drives apocalyptic road novels with a restrained love story and a science fiction that is at once unnerving, tender and credible -- Cynan Jones, author * The Dig *
Terrifying but hopeful, smart, vital and urgent: the ultimate must-read. -- Charles Foster, author * Being a Beast *
What an extraordinary book this is; ostensibly a compelling, addictive post-apocalyptic thriller, but also a ferociously intelligent examination of artificial intelligence, a highly accomplished treatise on the function of art, and a lyrical, moving, vitally urgent plea for expanded ecological awareness. It is a book with the force of prophecy -- Niall Griffiths, author * Broken Ghost *
A clear-eyed, unstinting challenge to all our complacencies that is unsettling, brave, philosophical, and as fast-paced as a thriller. A Frankenstein for modern times that, maybe, if we are lucky and if we listen to what it has to say, just might be the book to change our lives * Laura Beatty *
Highly readable and hugely important ­- an apocalyptic road trip into our near future informed and shaped by the most pressing issues of our present * Owen Sheers *
A startling, intellectual, post-Covid adventure * New Scientist *
Under the Blue's depth of thought shows through in its parallels with real events, and its angle on the subject emerges gradually but resonantly... a sad, angry novel with a surprising note of hope * SFX *
Short-listed for McKitterick Prize 2022 (UK)
ISBN: 9781788165839
Dimensions: 218mm x 140mm x 36mm
Weight: 460g
288 pages
Main