'Low Dat
Format:Paperback
Publisher:Bloomsbury Publishing PLC
Published:23rd Mar '05
Currently unavailable, and unfortunately no date known when it will be back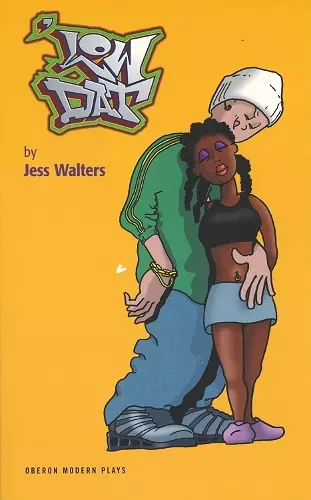 If you go red dat means he fancies ya, I mean you fancy him And if your heart goes really fast when he looks at you dat means you love him as well. And if you can't concentrate and think about him all the time even when Eastenders is on Dat's really annoying. 'Low dat man! I love 'im."
All the boys check for Missy - a 15-year old girl with a lot of front and attitude - but she's only got eyes for Panda, a 17-year old with a lot more experience. Or so it seems. Tin-Tin and D are happy to hang out on the swings and roundabouts of the local playground. That is until Tyler, a buff young Brummie, comes by dragging a Christmas tree.
Jess Walters' new comedy is about growing up, love and sex and that time in your life when the big question is when and where to 'low dat. Production at the Birmingham Rep.
ISBN: 9781840025583
Dimensions: 210mm x 130mm x 5mm
Weight: unknown
126 pages