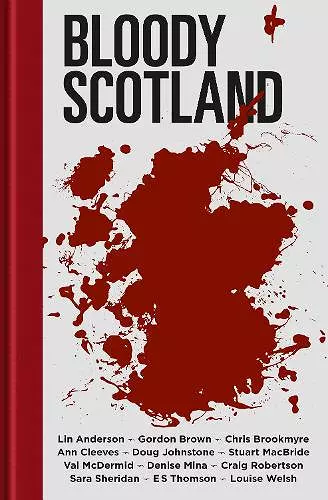 WINNER OF THE CWA SHORT STORY DAGGER
In Bloody Scotland a selection of Scotland's best crime writers use the sinister side of the country's built heritage in stories that are by turns gripping, chilling and redemptive.
Stellar contributors Val McDermid, Chris Brookmyre, Denise Mina, Ann Cleeves, Louise Welsh, Lin Anderson, Doug Johnstone, Gordon Brown, Craig Robertson, E S Thomson, Sara Sheridan and Stuart MacBride explore the thrilling potential of Scotland's iconic sites and structures. From murder in an ancient broch and a macabre tale of revenge among the furious clamour of an eighteenth century mill, to a dark psychological thriller set within the tourist throng of Edinburgh Castle and a rivalry turning fatal in the concrete galleries of an abandoned modernist ruin, this collection uncovers the intimate - and deadly - connections between people and places.
Prepare for a dangerous journey into the dark shadows of our nation's buildings - where passion, fury, desire and death collide.
'Like the most wonderful box of chocolates, this anthology delivers treat after treat, each with a different but harmonious flavour heightening the experience. A dozen great writers. A dozen great places. A killer combination.'
* The Scotsman *
'A brilliant publication capturing the unstoppable Scottish crime fiction scene in all its murderous glory via 12 short stories from writers including Val McDermid, Louise Welsh and Denise Mina . . . an astute publishing move' 
* The Herald, Books of the Year *
'it is a brilliant read that celebrates some of the best writers we possess as a country, as well as some of our best historical landmarks'
* The Courier *
'An outstanding book that will broaden the horizons of its readers as it entertains them, in terms both of what Scotland has to offer visitors, and the breadth of its crime-writing talent.'
* Undiscovered Scotland *
'The result is a collection both diverse and surprisingly cohesive . . . In Bloody Scotland, geography, not biology, is destiny, and these 12 stories demonstrate that fate is not always kind. Here's hoping that Scotland boasts enough landmarks for an encore.'
* Kirkus Review *
'The dozen entries in this fine anthology of original crime stories all feature actual Scottish landmarks, from castles to weaving mills . . . Fans of contemporary Scottish crime fiction will be well pleased.'
* Publishers Week
Winner of Short Story Dagger.
ISBN: 9781849172431
Dimensions: 205mm x 140mm x 25mm
Weight: 353g
288 pages