How to Catch a Star
Format:Paperback
Publisher:HarperCollins Publishers
Published:3rd May '05
£7.99
Available for immediate dispatch.
This paperback is available in other editions too: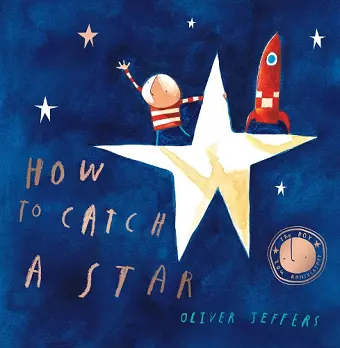 An inspirational story of a boy who loved the stars so much, he decided to catch one of his very own. The beautifully illustrated, original debut picture book from shining talent Oliver Jeffers.
There once was a boy who loved stars so much that he wished he had one of his very own. Every night he watched the stars in the sky from his bedroom window and dreamed of how he could be their friend and how they could play hide-and-go-seek together.
So, one day, he decided to set about catching a star of his very own…
"If only all picture books could be this good" The Bookseller
"…the best recent picture book by light years, is stylishly spellbinding" Telegraph
"A story about possibilities and disappointments with a triumphant ending, all of which Jeffers captures through the beautifully expressive changing moods of his little boy." Guardian
"This is a magical, beautifully illustrated tale about reaching for dreams… Adults tend to think of waiting as tedious, but the magic of this book is that it understands waiting as children wait – alert, apprehensive and using their imaginations." Mail on Sunday
"Hail to new talent… If only all picture books could be this good" The Bookseller
ISBN: 9780007150342
Dimensions: 265mm x 259mm x 2mm
Weight: 240g
32 pages