The Heart and the Bottle
Format:Paperback
Publisher:HarperCollins Publishers
Published:2nd Sep '10
£7.99
Available to order, but very limited on stock - if we have issues obtaining a copy, we will let you know.
This paperback is available in another edition too: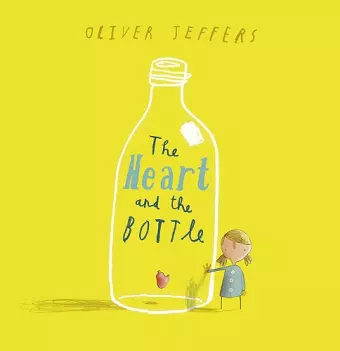 Award-winning picture book star Oliver Jeffers explores themes of love and loss in this life-affirming and uplifting tale.
Once there was a girl whose life was filled with wonder at the world around her…
Then one day something happened that made the girl take her heart and put it in a safe place. However, after that it seemed that the world was emptier than before. But would she know how to get her heart back?
In this deeply moving story, Oliver Jeffers deals with the weighty themes of love and loss with an extraordinary lightness of touch and shows us, ultimately, that there is always hope.
Praise for The Heart and the Bottle:
"Beautifully produced and profoundly moving… It made me cry, and I'm pretty sure I won't be the only one." The Irish Times
"Jeffers anatomises loss and the processes of grief with an honesty and ingenuity that will move adults and children of any age." Telegraph
Praise for Oliver Jeffers:
"Oliver Jeffers makes impressive use of space in this affecting story of friendship … illustrations capture feelings of loss and loneliness through the most delicate nuances of facial expression … and body language." Julia Eccleshare, The Guardian
"Hail to new talent … If only all picture books could be this good." The Bookseller
Short-listed for Kate Greenaway Medal 2011
ISBN: 9780007182343
Dimensions: 265mm x 259mm x 2mm
Weight: 240g
32 pages