Hummingbird Salamander
Format:Paperback
Publisher:HarperCollins Publishers
Published:14th Apr '22
£8.99
Available for immediate dispatch.
This paperback is available in another edition too: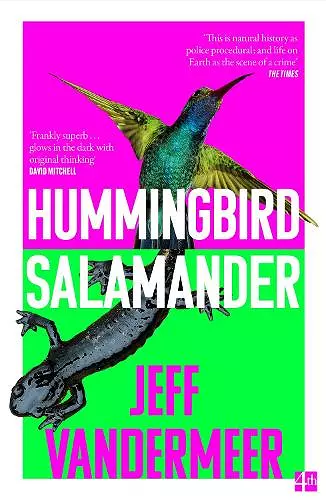 'Frankly superb.  This pummelling eco-thriller camouflages the true 'understory' of societal collapse, and glows in the dark with original thinking' David Mitchell, author of Utopia Avenue
A speculative thriller about the end of all things, set in the Pacific Northwest. A harrowing descent into a secret world.
'Jane Smith' receives an unexplained envelope containing the key to a storage unit. And inside that storage unit is a taxidermy hummingbird and directions to a taxidermy salamander. Somehow, this bizarre treasure hunt, that Jane never expected or asked for, sets in motion a series of events that quickly put her and her family in danger.
As she desperately seeks answers, she discovers time is running out – for her and possibly for the world.
'This is climate fiction at its most urgent and gripping' The New York Times
'Visionary, dark, beautiful, and strange, that rare novel that coaxes you into imagining the unimaginable' Kristen Roupenian, author of You Know You Want This: Cat Person and Other Stories
'Harrowing, gripping, and profound. It's both a thriller and a requiem for a disappearing world' Emily St. John Mandel, author of The Glass Hotel
Praise for Hummingbird Salamander:
'Every now and again a writer reimagines noir fiction for their generation. Now it's the turn of Jeff VanderMeer… He proves more than up to the task … a gripping kick-the-door-down investigation of wildlife smuggling that expands maniacally to include all that our planet has lost as the sixth extinction gathers pace … This is natural history as police procedural; and life on Earth as the scene of a crime' The Times
'An enigmatic eco-thriller that delivers on the subject of worlds – inner worlds such as the biosphere – that are coming apart' Observer
'VanderMeer is utterly confident and convincing in his storytelling… The action is delivered in short, punchy prose that builds up its own irresistible rhythm as the book progresses to a climax that deals with the possible end of the world, yet does so with nuance and thought-provoking speculation … A terrific piece of work' Big Issue
'A violent, darkly witty adventure, haunted by the threat of looming environmental apocalypse … while there's an urgency and a justified anger here, there's also a necessary glimmer of hope, a suggestion that perhaps we're not all completely doomed. Well, not yet, anyway.' Will Salmon, SFX Magazine
'An existential mindfuck cleverly disguised as a thriller … Visionary, dark, beautiful, and strange, that rare novel that coaxes you into imagining the unimaginable' Kristen Roupenian, author of You Know You Want This: Cat Person and Other Stories
'Quirky, compelling … The engine that drives it is speculation about the future not only of civilisation, but of all life on this planet.' Guardian
'Harrowing, gripping, and profound. It's both a thriller and a requiem for a disappearing world. I expect this novel will haunt me for a long time' Emily St. John Mandel, author of The Glass Hotel
ISBN: 9780008299378
Dimensions: 198mm x 129mm x 24mm
Weight: 260g
368 pages