The Imperfect Art of Caring
Format:Paperback
Publisher:HarperCollins Publishers
Published:14th Apr '22
£8.99
Available to order, but very limited on stock - if we have issues obtaining a copy, we will let you know.
This paperback is available in another edition too: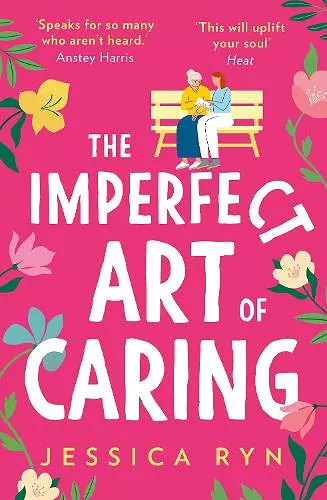 The uplifting and feel-good novel about community and friendship to escape with in spring 2022
One small act can make a big differenceOne small act can make a big difference
Violet Strong is strong by name but not by nature, or so she thinks. She listens but never talks about herself. She's friendly but doesn't have many real friends. She's become good at keeping people at a distance ever since she left home at eighteen and never looked back.
But when Violet is forced to return home to care for her estranged mother, Glenys, she quickly finds out that life as a carer isn't easy. Feeling overwhelmed, she's forced to turn to the other local carers, including childhood friend, Adam, for help.
Although returning home still feels like a mistake, maybe it will help Violet right some wrongs. After all, she can't keep running from her past forever, and in learning to look after others, perhaps Violet can start to finally love herself…
Your favourite authors LOVE Jessica Ryn's heartwarming novels:
'Well-written and entertaining' Katie Fforde, A Springtime Affair
'Full of hope, love and kindness' Kirsty Capes, Careless
'Warm-hearted, moving and funny' Frances Quinn, The Smallest Man
'Had my heart from the first page' Stephanie Butland, Lost For Words
'Made me laugh and ugly-cry in the best possible way' Freya Sampson, The Last Library
–––––––––––––––––––––––––––––––
Readers love Jessica Ryn's heartwarming and uplifting books:
'Perfect escapism' ⭐⭐⭐⭐⭐
'The characters are so believable' ⭐⭐⭐⭐⭐
'I was hooked from the first page' ⭐⭐⭐⭐⭐
'Uplifting and joyous' ⭐⭐⭐⭐⭐
'This is a hug in book form that will give you all the feels' ⭐⭐⭐⭐⭐
'This story will melt your heart' ⭐⭐⭐⭐⭐
'A story of warmth, kindness and forgiveness' ⭐⭐⭐⭐⭐
'A truly heartwarming read' ⭐⭐⭐⭐⭐
Praise for Jessica Ryn
'This will uplift your soul' Heat
'A poignant reminder about the importance of connection and community, written with such heart' Nicola Gill, The Neighbours
'Completely beguiling – a messy, loveable cast of characters with Dawn at the centre bringing the light' Beth Morrey, Saving Missy
'Oozing warmth and compassion, it will make your heart melt' Closer
'The book totally swept me away. A warm, heart-felt story with a cast of unforgettable characters' Olivia Beirne, House Swap
'Charming, moving and joyous'
Alice Peterson,If You Were Here
'Jessica Ryn writes with such warmth and sensitivity, I felt my heart crack more than once. Dawn Brightside is the heroine we never knew we needed'
Roxie Cooper,The Day We Met
'I fell instantly in love with Dawn Brightside. She made my heart soar and ache all at once, and I was immediately rooting for her. Clever, funny and full of heart'
Lia Louis,Somewhere Close to Happy
'Utterly charming, uplifting and full of warmth. Dawn Brightside has found a very special place in my heart' Katy Colins,The Best is Yet to Come
'The book equivalent of a glass half-full. It is love and light and brimming with a compassion that will inspire you to see the bright side. Not just within its pages, but within life'
Amy Beashal, The Sky is Mine
'Beguiling and captivating. The Extraordinary Hope of Dawn Brightside tackles homelessness, drug addiction, mental illness and the vulnerability that goes with it with warmth, humour and most of all, courage' Sunday Post
ISBN: 9780008364700
Dimensions: 198mm x 129mm x 24mm
Weight: 270g
384 pages