A Winter Wedding at Bletchley Park
Format:Paperback
Publisher:HarperCollins Publishers
Published:24th Nov '22
£7.99
Available for immediate dispatch.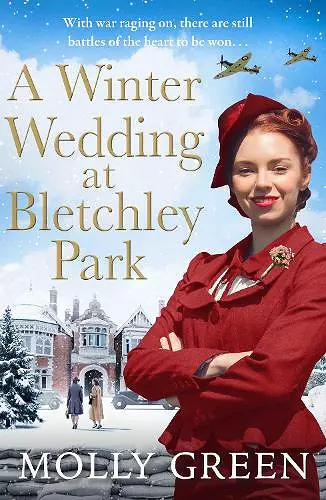 A new, inspiring Winter 2022 release from the bestselling author of World War 2 historical fiction saga
'Draws you in from the start and doesn't let you go until the end' Reader Review ⭐⭐⭐⭐⭐
'Wonderfully written and oozing wartime spirit. Couldn't ask for more!' Reader Review ⭐⭐⭐⭐⭐
The second inspiring novel in the heartwarming and hopeful Bletchley Park Girls series from the queen of saga, Molly Green…
When Rosie Frost was jilted on her wedding day, she didn't think life could get any worse. But six years later in the throes of the Second World War, she is unceremoniously dismissed from her dream job after they discover her illegitimate child.
Thankfully, top secret war office Bletchley Park recognises Rosie's talent and recruits her to decipher their Italian naval signals. Happy to be doing her bit for the war effort, Rosie settles into her new life.
But when she spots a familiar face at the Park, Rosie's world threatens to come crashing down once more. Can she put her heartbreak behind her? And will wedding bells ring out across Bletchley Park before the year is out?
The second in an uplifting wartime series set at Bletchley Park, perfect for fans of Nancy Revell and Donna Douglas.
Readers are LOVING Molly Green's Bletchley Park series:
'A journey for the reader…tantalizing…interesting…try this one!' Reader Review ⭐⭐⭐⭐⭐
'What can I say…I love it! Can't wait to read more' Reader Review ⭐⭐⭐⭐⭐
'Outstandingly fabulous' Reader Review ⭐⭐⭐⭐⭐
'A lovely story' Reader Review ⭐⭐⭐⭐⭐
'One of those can't-put-down books' Reader Review ⭐⭐⭐⭐⭐
'A cracking good read!' Reader Review ⭐⭐⭐⭐⭐
'Moments of being held spellbound…Kept me on the edge of my seat. Couldn't put it down' Reader Review ⭐⭐⭐⭐⭐
'A fantastic addition to what has been a fantastic series so far' Reader Review ⭐⭐⭐⭐⭐
'Great story. Great characters. Wonderfully written and oozing wartime spirit. Couldn't ask for more!' Reader Review ⭐⭐⭐⭐⭐
PRAISE FOR MOLLY GREEN:
'Molly Green creates realistic characters and situations that keep you turning the pages' Katie Fforde
'A moving, gripping story set during WW2, of a woman's dedication to the orphans in her care and her heart wrenching love' Kitty Neale
'Redolent of wartime Britain and brimming with heartfelt stories from several characters, Molly Green's sure-footed novel shows just how challenging it was to find love and a place to call home in the dark days of the war' Terri Fleming
'A lovely, heartfelt, warming slice of saga fiction … There is a gentleness to the writing as it walks some difficult paths, ensuring AN ORPHAN'S WAR is an engaging, generous read' Liz Robinson, LoveReading
'A gripping read' My Weekly
'Meticulously researched and brings into focus the sterling work of the women of the ATA … An engrossing story, with a strong, likeable female protagonist facing issues we still face today' Historical Novel Society Magazine
'Memorable characters, a well written, plausible plot and very good descriptions of the time and place. The scenes and details of Dr Barnardo's are especially interesting as the plight of orphans is rarely considered when we think of World War Two … We often forget the ordinary people surviving day-to-day 'back home'' Discovering Diamonds Blog
ISBN: 9780008479909
Dimensions: 198mm x 129mm x 28mm
Weight: 300g
448 pages