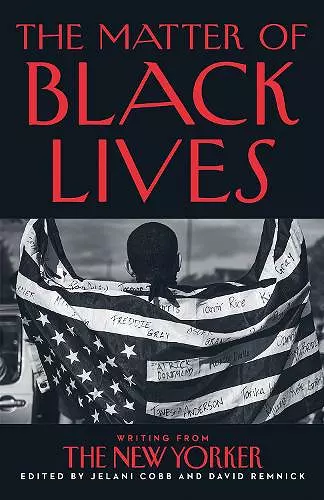 A collection of the New Yorker's groundbreaking writing on race in America, including work by James Baldwin, Toni Morrison, Ta-Nehisi Coates, Hilton Als, Zadie Smith, and more
From the pages of the New Yorker comes a bold and telling portrait of Black life in America, with astonishing early work from Rebecca West's account of a lynching trial and James Baldwin's 'Letter from a Region in My Mind' (which later formed the basis of The Fire Next Time) to more recent writing by Toni Morrison, Ta-Nehisi Coates, Zadie Smith, Hilton Als, Jamaica Kincaid, Malcolm Gladwell, Elizabeth Alexander, Chimamanda Ngozi Adichie, Doreen St. Félix, Henry Louis Gates Jr., Kelefa Sanneh, and more.
Reaching back across the last century, The Matter of Black Lives includes a wide array of material from the New Yorker archives ranging across essays, reported pieces, profiles, criticism, and historical pieces. This book addresses everything from the arts to civil rights, matters of justice, and politics, and brings us up to the present day with accounts of what Jelani Cobb calls "The American Spring." The result is a startling, nuanced and, ultimately, indelible portrait of America's complex relationship with race.
Praise for The Matter of Black Lives
'An essential volume for readers interested in the Black past and present, as all readers should be' – Publishers Weekly (starred review)
Praise for The Fragile Earth
'A must-read' Daily Beast
'Immersive and engaging . . . Reading three decades of essays on this important and urgent topic, one is appalled that we know so much and have repeatedly done so little with that knowledge, as well as simultaneously hopeful and skeptical that technological solutions can save us now' Library Journal
'Illuminating and powerful . . . a memorable book with a resounding message' Publishers Weekly (starred review)
ISBN: 9780008498702
Dimensions: 240mm x 159mm x 54mm
Weight: 1200g
848 pages