The Garnett Girls
Format: Hardback
Publisher: HarperCollins Publishers
Published: 16th Feb '23
£14.99
Available, normally delivered within 3-6 days.
This hardback is available in another edition too: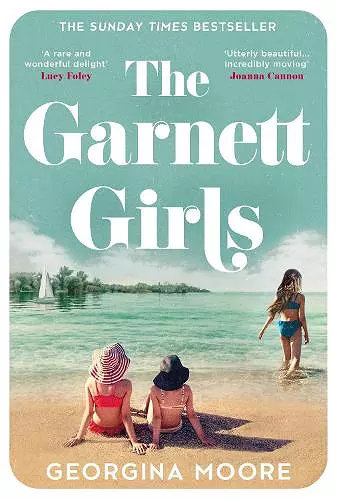 The Sunday Times bestselling new debut novel and family drama of 2023 that everyone is falling in love with, for fans of Taylor Jenkins Reid. Perfect for Mother's Day
A powerful, big-hearted debut of love, sisterhood and what it means to be home – warm, joyful and tender
One of the most talked about debuts for 2023
Picked by Stylist as a Big Fiction Debut for 2023
Georgina Moore was chosen by Observer as One of the Ten Best New Novelists for 2023
____________________________________
'Moore finds wry humour in her protagonists' dilemmas, conjures a beguiling sense of place, and wrings emotional depth out of the women's fractious relationships with each other' The Times
'An assured first novel… this immersive saga probes the traumas all families conceal. It is a novel of appetite… readers will down greedily' The Sunday Times
'With Moore's evocative prose it's easy to see why The Garnett Girls is being likened to works by… Penny Vincenzi and Maeve Binchy' The Observer
Forbidden, passionate and all-encompassing, Margo and Richard's love affair was the stuff of legend– but, ultimately, doomed.
When Richard walked out, Margo locked herself away, leaving her three daughters, Rachel, Imogen and Sasha, to run wild.
Years later, charismatic Margo entertains lovers and friends in her cottage on the Isle of Wight, refusing to ever speak of Richard and her painful past. But her silence is keeping each of the Garnett girls from finding true happiness.
Rachel is desperate to return to London, but is held hostage by responsibility for Sandcove, their beloved but crumbling family home.
Dreamy Imogen feels the pressure to marry her kind, considerate fiancé, even when life is taking an unexpected turn.
And wild, passionate Sasha, trapped between her fractured family and controlling husband, is weighed down by a secret that could shake the family to its core…
The Garnett Girls, the captivating debut from Georgina Moore, asks whether children can ever be free of the mistakes of their parents.
Praise for The Garnett Girls:
'A rare and wonderful delight' Lucy Foley
'I adored it' Bryony Gordon
'A delicious read' Rachel Joyce
'Richly drawn' Patrick Gale
'What a gem of a book!' Erica James
'Pure pleasure' Emma Stonex
'Beautifully written' Jill Mansell
'A wonderfully woven tale of love, friendship and family' Catherine Alliott
Praise for The Garnett Girls:
'With Moore's evocative prose it's easy to see why The Garnett Girls is being likened to works by commercial fiction queens Penny Vincenzi and Maeve Binchy' The Observer
'An absorbing family drama with resonating settings on the Isle of Wight' Independent
'This immersive saga probes the traumas that families conceal. It is a novel full of appetite – that readers will down greedily' Sunday Times
'Moore… conjures a beguiling sense of place' The Times
'The Garnett Girls offers romance and glamorous women to those who want an escapist read but also gives complex emotions, heartache and jeopardy to a younger more intellectual readership' Evening Standard
'Richly textured, immersive and astute' Mirror
'Beautifully crafted' Sun
'Giving Big Little Lies energy' Grazia
'One of the best debuts this year' Hello
'A story full of secrets, the weight of family expectations and the love that binds us together… a brilliantly readable debut' Fabulous
'The beautiful Isle of Wight setting only adds to the joy of this immersive family drama My Weekly
'A glamorous, alcohol-soaked family drama… If you love books about rich, beautiful people behaving badly and you miss the late Penny Vincenzi and Rosamunde Pilcher, then you are going to adore The Garnett Girls' Red
'Read this terrific debut for the compelling characters and the gorgeous descriptions' Good Housekeeping
'Full of forbidden and thwarted passion, the family story… feels as fresh as a sea breeze' Best
'Touching' Bella
'Truly one to get lost in' Heat
'A touching and compelling read' Woman & Home
'Compelling, lyrical and gorgeously crafted… an utterly transportive debut' Glamour
ISBN: 9780008506339
Dimensions: 240mm x 159mm x 30mm
Weight: 550g
336 pages