This is a special Signed Bookplate Edition, and has very limited quantity available
The Transgender Issue Signed Bookplate Edition
An Argument for Justice
Format:Paperback
Publisher:Penguin Books Ltd
Published:5th May '22
£10.99
Available for immediate dispatch.
This paperback is available in other editions too: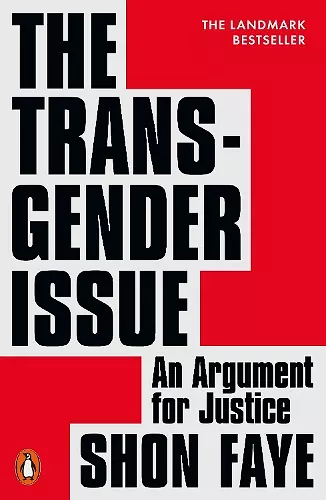 THE INSTANT SUNDAY TIMES BESTSELLER

'Few books are as urgent as Shon Faye's debut ... Faye has hope for the future - and maybe so should we' Independent

'Unsparing, important and weighty ... a vitally needed antidote' Observer

'A moving and impressively comprehensive overview of trans life' Vogue

Trans people in Britain today have become a culture war 'issue'. Despite making up less than one per cent of the country's population, they are the subjects of a toxic and increasingly polarized 'debate' which generates reliable controversy for newspapers and talk shows. This media frenzy conceals a simple fact: that we are having the wrong conversation, a conversation in which trans people themselves are reduced to a talking point and denied a meaningful voice.

In this powerful new book, Shon Faye reclaims the idea of the 'transgender issue' to uncover the reality of what it means to be trans in a transphobic society. In doing so, she provides a compelling, wide-ranging analysis of trans lives from youth to old age, exploring work, family, housing, healthcare, the prison system and trans participation in the LGBTQ+ and feminist communities, in contemporary Britain and beyond.

The Transgender Issue is a landmark work that signals the beginning of a new, healthier conversation about trans life. It is a manifesto for change, and a call for justice and solidarity between all marginalized people and minorities. Trans liberation, as Faye sees it, goes to the root of what our society is and what it could be; it offers the possibility of a more just, free and joyful world for all of us.

'Fundamentally not a culture-war book. It operates outside the narrow coverage of trans people in the mainstream, and lays bare the inarguable facts' New Statesman

'Monumental and utterly convincing - crystal clear in its understanding of how the world should be' Judith Butler
Few books are as urgent as Shon Faye's debut ... The analysis is thorough and heartbreaking ... it's a highly fact-based book backed up with statistics and case studies, but she manages to write it in a hugely emotive and powerful way ... Faye has hope for the future - and maybe so should we. -- Prudence Wade * Independent *

Faye puts forward a powerful case not of what separates us but what brings us together. Above all, her book is a cry for compassion for an embattled community and a plea to be treated with dignity and fairness. It is, surely, the very least anyone can do.
-- Fiona Sturges * The Guardian *
I am profoundly grateful that [this book] exists ... A book such as this one, in which a trans person has the opportunity to speak clearly and compellingly on their own terms, is
a vitally needed antidote
... One book cannot, of course, outweigh such a continual outpouring of animosity. Nevertheless, as drops in the bucket go, this book is an
important and weighty
one. -- Felix Moore * The Observer *
Enter Shon Faye. The journalist and former lawyer might have gathered a following on Twitter for her wry humor, but her first book offers a
cold, hard, and, most importantly, convincing
look into the facts surrounding trans rights both past and present, as well as
a moving and impressively comprehensive overview of trans life
in Britain today. Leavened by Faye's
sharp, sparkling writing style
...
The Transgender Issue
is a vital resource for readers outside of the U.K. to understand just what is happening there in terms of trans rights - and how to bring about a long-overdue change to the conversation. * Vogue *
A detailed overview of the systemic violence and discrimination trans people face in Britain today ... [Faye is] sanguine, relaxed, and funny while eloquently delivering complex philosophical arguments which, as she explains them,
sound so obvious that you wonder why you've never thought of them before
...
The Transgender Issue
is fundamentally not a culture-war book. It operates outside the narrow coverage of trans people in the mainstream, and
lays bare the inarguable facts of being trans
: that's it's rare, that it's misunderstood, that society makes it dangerous. -- Sarah Manavis * New Statesman *
A welcome contribution to the trans debate
... Faye has written
a clear and concise analysis
of the presenting issues for trans people today. -- Stella O'Malley * Evening Standard *
Faye's language is precise and the arguments well evidenced. This will be a challenging book for those lulled by the nonsense that sometimes passes for journalism about trans lives ... I don't recall a work like Shon Faye's that
takes the status quo by the lapels and gives it such a shaking.
-- Christine Burns * Times Literary Supplement *
Draws on wide-ranging research to make her arguments ...
Faye is highly intelligent and writes with compassion and clarity
about marginalised groups that suffer a lot. -- Christina Patterson * Sunday Times *
Sets the record straight on a lot of subjects, many of which are hard to misrepresent with the facts in front of you ... Once picked up, the book was hard to set down ... The book isn't just about highlighting problems - there are plenty of solutions offered, many of them radical.
-- Lee Hurley * Vice *
The Transgender Issue
, argues this [feminist] inheritance with energy and clarity ... Faye writes well. -- Mary Harrington * UnHerd *
Incisive and illuminating
in addressing myriad aspects of trans life in the UK, without ever being dogmatic. -- Robin Craig * Huck *
An important work of non-fiction that should change the tired conversation we've been having about trans people.
Not only that, it's a book for anyone who cares about building a fairer and more just society. -- Vic Parsons * Refinery29 *
A passionately reasoned defence ...
If you know what you think about all this, she - Faye - might move you to think again.
-- James McConnachie * The Times Books of the Year 2021 *
Shon Faye has written a book that
models clarity in its writing and its moral vision
. Focused on the UK, this book will doubtless have a strong and lasting impact in the world. One learns here how to distinguish between arguments that merit a response and those which should be refused because they are either cruel or stupid.
This is a monumental work and utterly convincing - crystal clear in its understanding of how the world should be.
-- Judith Butler, Professor, University of California Berkeley
The Transgender Issue
is
an urgent interrogation
of the manufactured moral panic which scapegoats and marginalises trans people.
With precision, wit, and clarity
, Shon Faye exposes how cultural and institutional discrimination against transgender people makes all of us less free.
If you're sick of seeing people's humanity reduced to cannon fodder for the culture war, read this book.
-- Ash Sarkar
This book feels like a moment.
In clear and eloquent writing, Shon Faye expands the discussion around trans history and experience, the huge impact on BAME trans people, and how economic and political inequalities intersect with trans experience.
It's heartfelt but analytical, in-depth and utterly humane
. Faye, with calm intelligence, unpacks so many of the problematic ways trans people are marginalised and discriminated against, with so many acts of violence perpetrated on trans bodies.
I learned a lot from this book
and it adds hugely to a wider conversation around inclusion of and support for our trans sisters and brothers.
A landmark piece of work.
-- Sinéad Gleeson
A
clear, intelligent, experience-based
explanation of why the scapegoating of trans people must stop, while enthusiastically encouraging more trans people to join feminist, anti-racist movements for economic and social change. -- Sarah Schulman
There is a full-blown moral panic under way in Britain about trans people, and
The Transgender Issue
is
the wake-up call we need. It is an inspiring call for coalition
, across the divides of class, race, sexual identity and gender. Shon Faye shows with courage and clarity that the struggle of trans people is the struggle of us all.
This book is a game-changer.
-- Owen Jones
From the very first words of
The Transgender Issue
, it is clear the reader is in the hands of someone with absolute clarity about the world we live in, and the one we deserve. ... Refusing to water down the radicalism and urgency of her demands, Shon's argument for justice is both
a heartfelt outcry against injustice, and an utterly convincing vision for change
rooted in analysis and research. -- Florence Welch
Writing with astonishing patience, clarity, and ethical force, Shon Faye has gifted us an essential primer for our times.
The Transgender Issue
calls us into a much-needed solidarity, and makes the project of constructing and inhabiting a more free and just world for everyone feel
urgent, possible, and exhilarating.
-- Maggie Nelson, author of ON FREEDOM
With
clarity, precision and great humanity
, Faye definitively draws to a close the harmful debate on trans lives, supporting her findings with iron-clad evidence.
Truly the final word on the matter
, this is a book for anyone who wants our society to be a kinder, fairer, more inclusive one. -- Juno Dawson
With extraordinary clarity and intellectual vigour
, Shon Faye cuts through the concern-trolling, the sly bigotry, and the unserious moral panics that so often characterise the discourse surrounding transgender lives. Though she writes out of the authority of experience, her work transcends the personal, making a plain and impassioned case for solidarity and human rights.The result is
an invigorating and deeply researched polemic, and a necessary addition to the evolving conversation on civil rights in the twenty-first century.
-- Mark O'Connell
An extraordinary achievement.
A smart, academic and yet totally accessible and patient analysis of what it is to be trans in the UK today and a convincing argument for how we can and must improve ...
I urge everyone to read it.
-- Joe Lycett
An utterly monumental work.
A bullet proof text that places trans people at the centre of the conversation, and puts forth a vision of the world that can liberate us all.
A truly exhilarating book.
-- Amrou Al-Kadhi
An important, thorough and excellently written book by the legendary Shon Faye.
Buy it. Share it. Support her work.
She is a fearless leader in this conversation. -- Jameela Jamil
Everyone should read this. -- Little Mix
I recommend everyone reads The Transgender Issue
, which is a great starting point to learn about what it's like to be a trans person in Britain at the moment. At the end of the day, we simply can't do this work on our own. -- Vic Parsons * Elle *
A forward-thinking analysis
of how capitalist and patriarchal systems backseat trans liberation ...
a vital read
that clearly communicates the extent of how deeply anti-transness is embedded in our society and how much work is to be done to achieve trans liberation. * Gay Times Book of the Year 2021 *
This vital, lucid book is so much more than an argument for justice on behalf of transgender people;
it's a clarion call for gender liberation, a tonic for our politically reactionary times.
-- Susan Stryker, author of TRANSGENDER HISTORY
Shon Faye's work [has] so informed me and made me feel hopeful and human ... do read
The Transgender Issue
if you want someone to clearly and calmly explain UK trans politics in a voice that's both wry and kind. -- Alexandra Heminsley, author of SOME BODY TO LOVE
Shon Faye makes a compelling case that transgender issues are inexorably linked with other social justice causes. The result is a bold and pragmatic guide for challenging societal transphobia comprehensively and intersectionally. -- Julia Serano, author of SEXED UP
It's a manifesto for change, a call for healthier conversations about being trans, and a clear-sighted, landmark book that explains how a more compassionate society benefits us all. -- Charlie Carroll * Exeter Living *
ISBN: 9780141991801-SB
Dimensions: 198mm x 129mm x 18mm
Weight: 236g
320 pages