Nasty, Brutish, and Short
Adventures in Philosophy with Kids
Format:Paperback
Publisher:Penguin Books Ltd
Published:4th May '23
£10.99
Available for immediate dispatch.
This paperback is available in another edition too: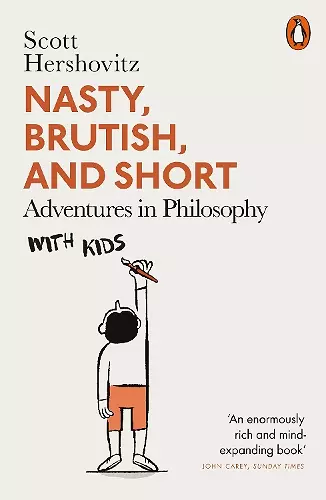 'Witty and learned ... Hershovitz intertwines parenting and philosophy, recounting his spirited arguments with his kids about infinity, morality, and the existence of God' Jordan Ellenberg, author of Shape

A funny, wise guide to the art of thinking, and why the smallest people have the answers to the biggest questions

'Anyone can do philosophy, every kid does...'

Some of the best philosophers in the world can be found in the most unlikely places: in preschools and playgrounds. They gather to debate questions about metaphysics and morality, even though they've never heard the words, and can't tie their shoelaces. As Scott Hershovitz shows in this delightful book, kids are astoundingly good philosophers. And, if we let ourselves pause to think along with them, we might discover that we are, too.

Nasty, Brutish, and Short is a unique guide to the art of thinking, led by a celebrated philosophy professor and his two young sons. Together, Scott, Rex, and Hank take us on a romp through classic and contemporary philosophy, steered by questions like, does Hank have the right to drink Fanta? When is it okay to swear? And, does the number six exist? They explore weighty issues, like punishment and authority; sex, gender, and race; the nature of truth and knowledge; and the existence of God. And they call on a host of professional philosophers, famous and obscure, to help them along the way. Ultimately, they demonstrate that we shouldn't just support kids in their philosophical adventures: we should join them, so that we can rekindle our own innate, childlike wonder at the world. We'd all be better, more discerning thinkers for it.
In his witty and learned book Nasty, Brutish, and Short, Hershovitz intertwines parenting and philosophy, recounting his spirited arguments with his kids about infinity, morality, and the existence of God, and teaching half a liberal arts curriculum along the way -- Jordan Ellenberg * New York Times Bestselling author of Shape *
This book will teach you how to transform the endless questions of childhood into the endless wonder of philosophy -- Barry Lam * Host and Executive Producer, Hi-Phi Nation podcast, Associate Professor of Philosophy, Vassar College *
This delightful book is about philosophy and, ultimately, how to better love your kids. Want to cherish them, respect them, help them learn? Then join them in their natural wonderment and enjoy the philosophical fun -- Aaron James * bestselling author of Assholes: A Theory and Professor of Philosophy at UC Irvine *
This book made me laugh and also think hard, sometimes on the same page. Highly recommended for anyone with kids, especially kids who wonder 'Why? -- Emily Oster, bestselling author of The Family Firm
Funny and fascinating. Prompted by conversations with his two young sons, Scott Hershovitz walks us through some of philosophy's stickiest questions: Does the universe go on forever? Can we really know anything? Is it ok to use swear words? Should you take revenge? Nasty, Brutish, and Short is an easy-to-read primer on how to discuss these profound topics with children, and how to think about them yourself. -- Pamela Druckerman, author of Bringing Up Bébé
Hershovitz is a total delight--energetic, compassionate, patient, wise, and very, very funny, even when he is talking about weighty or difficult ideas. I'm grateful to have him as a model for how to talk to my children and how to think alongside them. -- Merve Emre * author of The Personality Brokers *
Thoroughly enjoyable ... fun anecdotes abound ... This sincere and smart account puts to rest the idea that philosophy belongs in academia's ivory tower -- Publisher's Weekly (Starred Review)
Equal parts hilarious (for years, Hank kept up a facade of not knowing the alphabet to worry his dad) and profound (4-year-old Rex: 'I think that, for real, God is pretend, and for pretend, God is real') . . . clear and lively . . . A playful yet serious introduction to philosophy. * Kirkus *
An enormously rich and mind-expanding book, which anyone will gain from reading, especially parents -- John Carey * The Sunday Times *
Witty and self-deprecating, Nasty, Brutish, and Short explores the wonder that young kids bring to their efforts to make sense of the world - and what grown-ups can learn from it. * The Christian Science Monitor *
Radical... Hershovitz highlights the ways your kids' sometimes awesome and sometimes annoying questions make them tiny versions of Socrates and Sartre ... The point of this book is not to provide a code for living morally. Instead, it's about the process of thinking philosophically -- Elissa Strauss * Atlantic *
Vibrant, funny and provocative * Times Literary Supplement *
ISBN: 9780141993027
Dimensions: 198mm x 129mm x 21mm
Weight: 281g
384 pages