Dinner with Darwin
Food, Drink, and Evolution
Format: Paperback
Publisher: The University of Chicago Press
Published: 11th Nov '20
£16.00
Available to order, but very limited on stock. If we have issues obtaining a copy, we will let you know..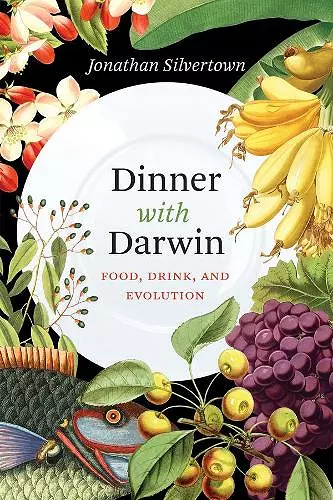 What do eggs, flour, and milk have in common? They form the basis of waffles, of course, but these staples of breakfast bounty also share an evolutionary function: eggs, seeds (from which we derive flour by grinding), and milk have each evolved to nourish offspring. Indeed, ponder the genesis of your breakfast, lunch, or dinner, and you'll soon realize that everything we eat and drink has an evolutionary history. In Dinner with Darwin, join Jonathan Silvertown for a multicourse meal of evolutionary gastronomy, a tantalizing tour of human taste that helps us to understand the origins of our diets and the foods that have been central to them for millennia--from spices to spirits. A delectable concoction of coevolution and cookery, gut microbiomes and microherbs, and both the chicken and its egg, Dinner with Darwin reveals that our shopping lists, recipe cards, and restaurant menus don't just contain the ingredients for culinary delight. They also tell a fascinating story about natural selection and its influence on our plates--and palates. Digging deeper, Silvertown's repast includes entrees into GMOs and hybrids, and looks at the science of our sensory interactions with foods and cooking--the sights, aromas, and tastes we experience in our kitchens and dining rooms. As is the wont of any true chef, Silvertown packs his menu with eclectic components, dishing on everything from Charles Darwin's intestinal maladies to taste bud anatomy and turducken. Our evolutionary relationship with food and drink stretches from the days of cooking cave dwellers to contemporary creperies and beyond, and Dinner with Darwin serves up scintillating insight into the entire, awesome span. This feast of soup, science, and human society is one to savor. With a wit as dry as a fine pinot noir and a cache of evolutionary knowledge as vast as the most discerning connoisseur's wine cellar, Silvertown whets our appetites--and leaves us hungry for more.
"[A] fascinating celebration of the green world upon which all human life depends."--Richard Wrangham, author of Catching Fire: How Cooking Made Us Human "New Scientist, Best Books of the Year, on Silvertown's An Orchard Invisible" "A gem. . . . Read it as a gardener, scientist, food aficionado, historian, botanist, or naturalist, and you'll not be disappointed."--Richard Wrangham, author of Catching Fire: How Cooking Made Us Human "Times Higher Education, on Silvertown's An Orchard Invisible" "A science-informed tour of the table, showing how our fare comes to us courtesy of natural selection--and, of course, survival of the fittest. . . . Silvertown delves in with gusto. . . . His accessible discussion ranges from shellfish gathering to bread-making to gardening, from issues of food security . . . to the genetic basis for taste and genetic variability among populations of food plants. . . . A tasty nibble for the bookish, science-inclined foodie."-- "Kirkus Reviews" "A series of beautifully plated amuse-bouche, raising tantalizing and rich ideas. . . . The book left me feeling as if I had attended a dinner party, where foodies, historians, and scientists mingled, sharing vignettes on various food-related topics. Each 'bite' . . . left me contemplating the relationships between genetic changes, speciation, and, at times, even the future of our planet."--Mari-Vaughn V. Johnson, US Department of Agriculture "Science" "As pleasurable to read as it is informative."--Richard Wrangham, author of Catching Fire: How Cooking Made Us Human "Library Journal, on Silvertown's An Orchard Invisible" "Deserves a spot on any natural history lover's bedside bookstand. . . . It is simply a delight to read."--Richard Wrangham, author of Catching Fire: How Cooking Made Us Human "Natural History, on Silvertown's An Orchard Invisible" "In a nutshell, I will never look at seeds the same way again, whether teeny poppy seeds or mammoth coconuts. . . . [A] delicious little book."--Richard Wrangham, author of Catching Fire: How Cooking Made Us Human "Australian, on Silvertown's An Orchard Invisible" "Silvertown breaks down the sociology, selective breeding, and nutritional evolution behind each contemporary dietary staple. . . . This tour--from animal to vegetable to beer--will give even the most ambitious foodie something to chew on."-- "Scientific American" "The Darwinian dining served up by evolutionary ecologist Silvertown in this delectably erudite study is all about tracing the impact of natural selection on foods. We learn that mussels helped to fuel the hominin exodus from Africa; rye is a weed domesticated by accident; carnivory and tapeworms are intimately linked; and Penicillium camemberti mold evolved in soft cheeses. We even examine engastration--stuffing one animal into another before cooking--as a status-led manifestation of the need to share food. This intricate scientific banquet is a marvelous read: bon appetit."--Barbara Kiser "Nature" "From the opening course of oysters to the final swill of wine, Silvertown's account of the evolution of our diet is a sumptuous experience. Dinner with Darwin combines natural history, biography, archaeology, and biology into food stories that will enlighten any meal."--Richard Wrangham, author of Catching Fire: How Cooking Made Us Human "Washington Independent Review of Books" "Dinner with Darwin ranges far more widely--and offers vastly more substance--than the common horde of food books. This is not a candlelit foodie memoir or a 'breakthrough' weight-loss manual. Dinner with Darwin is a wide-ranging natural history of our diet, crafted at a pitch-perfect level for the science buff and the general reader alike. Silvertown is also a wonderful writer: erudite, informative, and thoroughly entertaining."--Bob Duffy "Washington Independent Review of Books"
ISBN: 9780226760094
Dimensions: 229mm x 152mm x 23mm
Weight: unknown
232 pages