Business for Bohemians
Live Well, Make Money
Format: Paperback
Publisher: Penguin Books Ltd
Published: 3rd Aug '17
£10.99
Available to order, but very limited on stock. If we have issues obtaining a copy, we will let you know..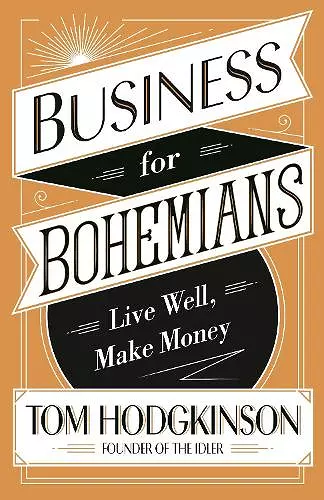 Everyone should work for themselves. But don't cashflow forecasts, tax returns and P&Ls all sound a bit of a faff?

Fear not: help is at hand. In Business for Bohemians, Tom Hodgkinson combines practical advice with laugh-out-loud anecdote to create a refreshingly candid guidebook for all of us who aspire to a greater degree of freedom in our working lives.

Whether you dream of launching your own startup or profiting from your creativity in your spare time, Business for Bohemians will equip you with the tools to turn your talents into a profitable and enjoyable business. Accounting need no longer be a dark art. You will become au fait with business plans and a friend of the spreadsheet. You will discover that laziness can be a virtue. Above all, you will realise that freedom from the nine-to-five life is achievable - and, with Hodgkinson's comforting, pragmatic and extremely funny advice at hand, you might even enjoy yourself along the way.

Tom Hodgkinson is the founder and editor of The Idler and the bestselling author of How to be Idle, How to be Free, The Idle Parent and Brave Old World. In 2011 he and his partner Victoria launched the Idler Academy of Philosophy, Husbandry and Merriment, a business which offers online and real-world courses in the liberal arts and practical skills, from philosophy and ukulele to business skills and singing.
Extremely funny... Add this wry and helpful book to your reading list * Financial Times *
It reads like a dream... Tom genuinely makes me feel good about striving for happiness over money, security and status * ELLE *
Brilliant. An exceedingly readable and useful handbook for those who choose to make the leap and control their own destiny -- Luke Johnson, former chairman, Channel 4 and Pizza Express
Is it possible to make money while you're asleep? Sure it is, this book might just give you some ideas how -- James Reed, chairman, Reed Group
Indispensable to those of us whose eyes start to close at the thought of a spreadsheet -- Dominic West, actor and director
Finally, a business book that celebrates free spirits... Even chapters about accounting and spreadsheets are rollicking reads * &Co magazine *
A perceptive and useful book that will be genuinely helpful for anyone thinking of starting a business -- John Brown, founder, John Brown Media
Funny, intelligent, irreverent and practical, this is everything you need from a great book about business and loads more besides. Once you've picked this up you won't want to put it down; and you can't say that about many business books -- Charles Gladstone, founder, Pedlars and the Good Life Experience
Business for Bohemians is the must-have handbook for people like me, trying to reconcile how to live a life of creative freedom and expression with the pressing need to also make a living and therefore negotiate the thickets of business bullshit. It made me feel I was not alone in trying to do so - and it's a rather gripping read to boot -- James Studholme, founder, Blink Productions
A joy to read... If you need to get control of your business this is a great book. If you are already in control, it will remind you what works and to keep on going. It's also very, very funny * Better Retailing *
ISBN: 9780241244807
Dimensions: 198mm x 129mm x 16mm
Weight: 181g
256 pages