Who Can You Trust?
How Technology Brought Us Together – and Why It Could Drive Us Apart
Format:Paperback
Publisher:Penguin Books Ltd
Published:4th Oct '18
£10.99
Available to order, but very limited on stock - if we have issues obtaining a copy, we will let you know.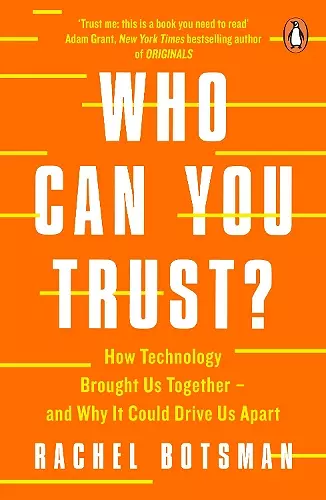 The widely praised exploration of how the digital era is revolutionising human trust.
TRUST IS FUNDAMENTAL TO EVERY ACTION, EVERY RELATIONSHIP, EVERY TRANSACTION

AND IT MATTERS NOW MORE THAN EVER BEFORE...

In this ground-breaking book world-renowned trust expert Rachel Botsman reveals that we are at the tipping point of one of the biggest social transformations in human history. We might have lost faith in institutions and leaders, but millions of people travel in cars with total strangers, exchange digital currencies, or find themselves trusting a bot.

We still trust: but not the way we used to.

If we are to benefit from this radical shift, we must understand how trust is built, managed, lost and repaired in the digital age. In the first book to explain this new world, Botsman provides a definitive guide of this uncharted landscape - and explores what's next for humanity.

'Brilliantly describes how the established trust framework is undergoing a radical transformation as digital technologies take root in every facet of our lives' Marc Benioff, Chairman & CEO, Salesforce

'Fascinating and well researched...every reader will gain new insights' Geoff Mulgan, Chief Executive, Nesta

'A rare book that will cause you to think deeply about your business, your relationships and your life' Don Tapscott, bestselling author of Wikinomics and Blockchain Revolution
Beautifully-written . . . the thesis is completely compelling. This is an important book -- Andy Haldane, Chief Economist, Bank of England
This is that admirable and all too rare book that gives you "an idea to think with" that helps to put new things in place: from Brexit, Donald Trump, and Blockchain to Facebook and your discontents. Who Can You Trust is a primer for a new world that sets you up to be a better citizen, consumer, and parent. In the new world of decentralized trust you need to think about who you trust, why you trust, and what that really means for what kind of new society we are building. A beautifully written, clear eyed book...I learned so much. About so many things I wanted to know. So quickly -- Sherry Turkle * Abby Rockefeller Mauzé Professor of the Social Studies of Science and Technology, MIT, and author of Alone Together *
Profound . . . will cause you to think deeply about your business, your relationships and your life -- Don Tapscott, bestselling author of 16 books, including 'Blockchain Revolution'
Trust affects everything - from neighbourliness and shopping to democracy. This fascinating and well-researched study of the shifting tides of trust shows both the power of new technological solutions and the often surprising problems they bring in their wake. Every reader will gain new insights into one of the great issues of our time -- Geoff Mulgan, Chief Executive, NESTA
A timely and accessible framework for understanding what trust is, how it works, why it matters and how it is evolving. It is an important primer to the obstacles and opportunities we face as a society if we are to repair and redefine trust across socioeconomic, political and cultural divides. The stakes are high. -- Rebecca MacKinnon * Washington Post *
Extremely thought-provoking . . . a must-read for anyone interested in how the world works - and will work in the future -- Will Dean, co-founder and CEO of Tough Mudder
Some people can educate and others can entertain; in Who Can You Trust, Rachel Botsman does both. Read it for insight or escape as it takes you on both journeys -- John Eales, most successful captain in the history of Australian rugby
Thrilling. Brilliantly exposes the central paradox of the IT revolution - that it connects us while keeping us apart. Rachel Botsman encourages us to take responsibility for the kind of world we want to live in, and to preserve society's most fragile asset: trust -- Hugh Mackay, Social Scientist and best-selling author of sixteen books
Timely, lucid and beautifully written. This is one of the most important books you'll read this year -- Richard Glover, Columnist, Sydney Morning Herald, ABC Radio Broadcaster
This book perfectly walks the reader through the past, present, and future of trust as we know it. Rachel Botsman's expertise on this topic is unmatched. It's an absolute must-read for business leaders and everyday consumers alike -- Nick Shapiro, Global Head of Trust & Risk Management, Airbnb and former Deputy CIA Deputy Chief of Staff
Botsman rightly challenges us in this new era to ask the compelling questions about who, why and how we trust. Highly recommended -- Tim Costello, CEO World Vision Australia
In Rachel Botsman's capable hands, the concept of 'trust' - and its changing shape over the ages - becomes clear and accessible. Utterly compelling -- Dr Simon Longstaff, Executive Director of the Ethics Centre
Sharp, penetrating, and obsessively researched, this book will open your eyes to a phenomenon that is as important as it is impossible to ignore. -- Leigh Gallagher, Senior Editor, Fortune
An absorbing, story-filled narrative that will leave readers with a new understanding of the phenomenon that drives life in our digital age * Kirkus Reviews *
A sharp, thoughtful, sometimes-surprising account of how we build trust with strangers now. * Kirkus Reviews *
In a time when people are doubting experts, suspicious of the media, and losing faith in government and business, Rachel Botsman is here with a lucid analysis of what it takes to build and rebuild trust. Trust me: this is a book you need to read -- Adam Grant, New York Times bestselling author of GIVE AND TAKE, ORIGINALS, and OPTION B with Sheryl Sandberg
Rachel Botsman's eye-opening, timely book delves into the unfolding crisis of trust spreading throughout the world. She brilliantly describes how the established trust framework is undergoing a radical transformation as digital technologies take root in every facet of our lives. Read this book and you'll be ready for a revolution in trust that rewrites the rules of human interaction -- Marc Benioff, Chairman & CEO, Salesforce
Book of the Month -- October * Financial Times *
This is a book that every adult reader should pick up to gain some perspective on how reliant we have become on technology, and how we can afford to approach it with more skepticism * The Literary Journal Review *
Botsman has found a rich theme here and a fascinating way of interpreting the technological change * Wall Street Journal *
Top 10 Business Bestseller * 800 CEO Read *
Top 5 Tech Book of the Year * WIRED *
In her witty new book technology author and TED celebrity Rachel Botsman tells us why it did not work. Who Can You Trust? reveals some deep truths * Spectator *
Botsman guides the reader on an enjoyable accessible, but cautiously skeptical, tour through this hugely transformative, but barely recognized, shift in our sometimes-irrational approach to trust * Winnipeg Free Press *
As Botsman drives deeper and darker, she sheds more and more light, her book [is] rapidly becoming brilliant * Dialogue *
ISBN: 9780241296189
Dimensions: 198mm x 129mm x 21mm
Weight: 245g
352 pages