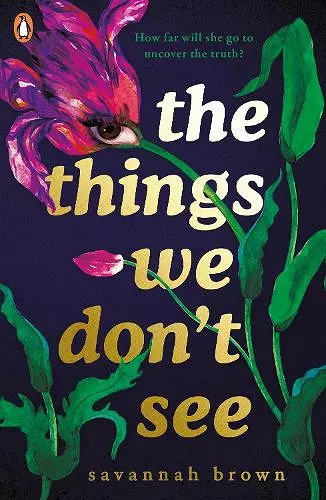 The incredible new thriller from extraordinary writing talent Savannah Brown
The new gripping YA thriller from online sensation Savannah Brown, author of The Truth About Keeping Secrets, Graffiti, and Sweetdark. Perfect for fans of Karen McManus, Holly Jackson's A Good Girl's Guide to Murder and E. Lockhart's We Were Liars.

When fledgling singer Roxy Raines vanishes from the tiny resort of Sandown, the island's locals refuse to talk about it to any outsiders, dismissing Roxy as a teenage runaway.


Thirty years later, seventeen-year-old Mona Perry is convinced there's something more sinister at play. Armed with a suitcase and a microphone - to record her findings for her podcast's listeners - the troubled teen is on a deadline: one hot summer is all she has to get to the bottom of Roxy's story.


But as Mona gets drawn into the strange goings on of this isolated community, it becomes clear that nothing is as it seems. Least of all Mona's own past, and the disappearance of someone else, someone much closer to her...

How far will she go to uncover the truth?


Praise for The Things We Don't See:

'A propulsive mystery driven by beautifully raw narration . . . Brown's prose reads like a live wire.' Rory Power, author of Wilder Girls

'A beautifully written mystery with a host of fascinating characters' Vincent Ralph, author of Are You Watching?
A beautifully written mystery with a host of fascinating characters, Savannah Brown's new book explores loss - on both the people and the places left behind - and comments on our fascination with true crime in a fresh and thought-provoking way. * Vincent Ralph, author of Are You Watching? *
A propulsive mystery driven by beautifully raw narration, The Things We Don't See is an honest look at the cost of moving on. Brown's prose reads like a live wire. * Rory Power, author of Wilder Girls *
Fast- paced, character-driven and completely addictive. The perfect YA mystery. * Dubray Books *
ISBN: 9780241346327
Dimensions: 198mm x 129mm x 23mm
Weight: 266g
384 pages