Managing Your Migraine
Format: Paperback
Publisher: Penguin Books Ltd
Published: 26th Aug '21
£9.99
Available, normally delivered within 3-6 days.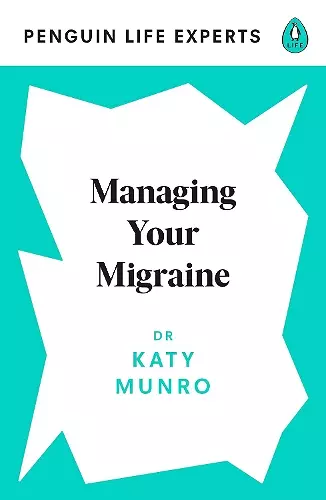 'A fantastic and much needed resource for all those suffering. Dr Katy Munro's experience and knowledge through this book will help all those who read it' Dr Rupy Aujla, The Doctor's Kitchen

'Dr Katy Munro is the single best migraine expert our family have ever met [...] This book brings hope to every migraineur' Miranda Sawyer, Guardian & Observer Journalist

*****

Despite being one of the most common and debilitating conditions in the world, migraine is still widely misunderstood, stigmatised and misdiagnosed. Migraine is much more than 'just a headache', it's a genetic, neurological brain disorder, and it's time patients got the healp they really need.

Managing Your Migraine is the practical go-to guide for understanding and treating migraine. In the book, headache Specialist and GP Dr Katy Munro will give you expert advice on:

· Understanding your migraine phases and triggers
· The impact of food, exercise and sleep on migraine
· Rescue plans for acute attacks
· Migraine preventers
· Migraine in children
· Managing your mental health with migraine

If you're a person with migraine, or know someone struggling, this book will provide helpful strategies for alleviating your symptoms and managing your migraine. Drawing on her medical expertise, her own personal experience with migraine and the stories of her patients, Dr Munro will empower you to get to know your own migraine and build an effective treatment plan that will help you live your life more fully.

Part of the Penguin Life Experts series.
'Headaches are one of the most debilitating and common symptoms people have to deal with across the world, and Dr Katy Munro's work will provide a fantastic and much needed resource for all those suffering. Her experience and knowledge through this book will help all those who read it' * Dr Rupy Aujla, The Doctor's Kitchen *

'Dr Katy Munro is the single best migraine expert our family have ever met - and we have met A LOT. Not only is she clear, she's kind and her understanding of chronic migraine is unparalleled. This book brings hope to every migraineur'
* Miranda Sawyer, Guardian & Observer Journalist *
'A concise, but comprehensive book on all aspects of migraine written by an expert in the field who understands what people want to know'
-- Dr David KernickHeadache Specialist and co-author of Headache: A Practical Manual
ISBN: 9780241514283
Dimensions: 198mm x 129mm x 14mm
Weight: 159g
224 pages