In Memoriam
Format: Hardback
Publisher: Penguin Books Ltd
Published: 9th Mar '23
This title is currently unavailable, but we can notify you if and when it becomes available again.
This hardback is available in another edition too: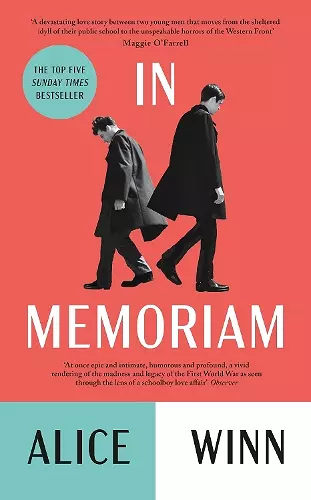 It was only because Gaunt knew he might die, that he could be so reckless as to kiss him.

'Assured, affecting and moving. Alice Winn has written a devastating love story between two young men on the Western Front' MAGGIE O'FARRELL, BESTSELLING AUTHOR OF HAMNET
______________________

In 1914, war feels far away to Henry Gaunt and Sidney Ellwood. They're too young to enlist, and anyway, Gaunt is fighting his own private battle - an all-consuming infatuation with the dreamy, poetic Ellwood - not having a clue that his best friend is in love with him, always has been.

When Gaunt's mother asks him to enlist in the British army to protect the family from anti-German attacks, he signs up immediately, relieved to escape his overwhelming feelings. But Ellwood and their classmates soon follow him into the horrors of trenches. Though Ellwood and Gaunt find fleeting moments of solace in one another, their friends are dying in front of them, and at any moment they could be next.

An epic tale of the devastating tragedies of war and the forbidden romance that blooms in its grip, In Memoriam is a breathtaking debut.
______________________

'One of the best debuts I've read in recent years: immersive, rousing, tender and devastating . . . please rush out and buy it' ELIZABETH DAY

'BIRDSONG for a new generation' JOANNA QUINN, AUTHOR OF THE WHALEBONE THEATRE

'Like looking at a black and white photograph which has been colourised . . . I was completely absorbed, moved, and transported' CLAIRE FULLER, AUTHOR OF UNSETTLED GROUND

'When was the last time characters in a novel seemed so real to me, so cherishable, so alive?' GARTH GREENWELL, AUTHOR OF CLEANNESS and WHAT BELONGS TO YOU

'A vivid rendering of love and frontline brutality in the first world war . . . In Memoriam is at once epic and intimate, humorous and profound, a vivid rendering of the madness and legacy of the first world war as seen through the lens of a schoolboy love affair' Observer

'A tender, affecting debut . . . Winn strikingly evokes the torment and brutality of life of the front' The Times

'Propulsive, visceral and...
It's hard to believe that In Memoriam is a debut novel as it's so assured, affecting and moving. Alice Winn has written a devastating love story between two young men that moves from the sheltered idyll of their public school to the unspeakable horrors of the Western Front during the First World War. Gaunt and Ellwood will live in your mind long after you've closed the final pages. -- Maggie O'Farrell
One of the best debuts I've read in recent years: immersive, rousing, tender and devastating. In Memoriam is both a deeply moving love story and a visceral evocation of the Great War, impressively free of cliche. Winn makes such important points about class, destruction and the loss of innocence. I loved it with a startling ferocity -- Elizabeth Day
A tender, affecting debut . . . Winn strikingly evokes the torment and brutality of life of the front * The Times *
A vivid rendering of love and frontline brutality in the first world war . . . In Memoriam is at once epic and intimate, humorous and profound, a vivid rendering of the madness and legacy of the first world war as seen through the lens of a schoolboy love affair . . . Acts of revenge, moonlit escapes from POW camps, serendipities just wild enough to be credible - all bound from the page with a clarity best described as cinematic, while even in the direst moments Winn's dialogue thrums with mirth and furious intelligence. Throughout, she artfully switches perspectives and settings, leaving the reader in desperate suspense over fates and fortunes. * Observer *
In Memoriam is the story of a great tragedy, but it is also a moving portrait of young love, and there is often a lightness to the book, even humor. It's a difficult balancing act, but one that Winn, who is erudite, fast talking and very funny, pulls off . . . Winn was 26 years old when she began it, but "In Memoriam" doesn't read like its author was still finding her footing as a writer * New York Times *
Alice Winn's propulsive, visceral and heartrending debut takes an all-too-familiar setting and brilliantly reframes it via a feverish gay love story . . . Winn skillfully uses the school as a microcosm, making us feel the loss of each boy, each friend, each brother . . . but what keeps you turning the page is the tender central romance . . . I can't remember the last time I was this invested in a love story - all the while seeing our darkest history brought wrenchingly to life * Sunday Telegraph, 4 stars *
Alice Winn's devastating debut will smash your heart to smithereens . . . as thousands of young men die in the most horrific of ways, Gaunt and Ellwood attempt to survive the slaughter and keep their love alive * Daily Mail *
First love, class, male camaraderie and the horrors of the war are all explored in this quietly heartbreaking epic with the unforgettable appeal of Birdsong * Good Housekeeping, A Book of the Month *
Glorious, addictive . . . Winn's prose is percussive . . . I couldn't put it down . . . Winn's exquisite pacing lives in her syntax as much as her plot, giving vim and vigor to every line * New York Times Book Review *
With accolades from Maggie O'Farrell and Elizabeth Day, In Memoriam is one of those debut novels so accomplished that is has made the literary world sit up and stand to attention . . . In Memoriam is gripping, tender, immersive and, most of all, completely unforgettable * i, Top Fiction Pick of the Month *
The horrors of life in the trenches are described in stomach-turning details . . . there is an ease to Winn's writing, though, a zippy confidence, unusual for a debut, that allows her to skip across Europe, taking in famous battles, prisoner of war camps and hospitals, and a few trips home to mother to boost . . . [a] genuine page-turner * Sunday Times *
I'm obsessed . . . Winn writes with extraordinary power about trench warfare, taking us right into the heart of the terribly futility of this militarised massacre. She tackles class, love, innocence and masculinity with devastating insight and tenderness. I can't actually believe it's a debut . . . please rush out and buy it -- Elizabeth Day
In Memoriam is both brutal and beautiful; the kind of rich and atmospheric and devastating story that you spend days recovering from. Anyone who loved Sebastian Faulks' Birdsong or Ian McEwan's Atonement as much as I did needs to read this book -- Anna Bonet
Winn's accomplished debut presents two indelible characters - athletic Henry Gaunt and lyrical Sidney Ellwood, English boarding school chums who both believe their love for each other is unrequited. Whether they're posturing schoolboys on the cusp of World War I or enduring the visceral shock and horrifying randomness of death in the trenches, Gaunt and Ellwood are unceasingly drawn to each other, each afraid to risk following his heart until it may be too late. * Washington Post, Noteworthy Books for March *
IN MEMORIAM is a gripping and unsentimental love story that brings the First World War to life in a vividly new way. Alice Winn is a truly skilful writer, depicting her main characters, Gaunt and Ellwood, and the many layers of their relationship, beautifully, with real care and insight. She is unsparing in her depiction of the conflict in which they find themselves - powerfully evoking both the horrors of trench warfare and the devastating impact it had on those involved. She also brilliantly explores how the English public school system, with its casual brutalities and glorification of battle, was irrevocably intertwined with the war. An unforgettable novel, one I stayed up all night to finish, with characters I loved almost as much as they loved each other. . . Birdsong for a new generation -- Joanna Quinn, author of THE WHALEBONE THEATRE
I read through the night to finish this blistering debut, too feverishly engrossed to sleep. When was the last time characters in a novel seemed so real to me, so cherishable, so alive? Alice Winn has made familiar history fresh; no account of the First World War has made me feel so vividly its horror, or how irrevocably it mutilated the world. That In Memoriam is also an extraordinary love story is a sign of Winn's wild ambition and her prodigious gifts: this is a novel that claims both beauty and brutality, the whole range of human life. -- Garth Greenwell, author of CLEANNESS and WHAT BELONGS TO YOU
A central relationship so utterly convincing that it will leave you bereft. Visceral, heartbreaking but full of heart, this is a masterpiece of war literature -- Hanna Jameson, author of THE LAST and ARE YOU HAPPY NOW
Alice Winn has pulled off a remarkable feat in making these men and the horrors of the First World War come so viscerally alive. It was like looking at a black and white photograph which has been colourised, and suddenly you understand that these shadowy people from the past also dreamed and cried and breathed just as we do now. I was completely absorbed, moved, and transported -- Claire Fuller, author of UNSETTLED GROUND
This debut captures an epic love story amid the brutalities of war * Poeple Magazine *
Stunning . . . brutal and unflinching but also beautiful. A triumph -- Karen Angelico
Winn offers a fresh look at a subject many of us believe we know well. A tender story as much about love as it is about war -- Rowan Hisayo Buchanan
A searing and harrowing novel about the love story between two young men men played out against a backdrop of the horrors of World War I. The writing was so visceral and intense, I honestly felt as if I was in the trenches with them, and I'm still thinking about the book weeks after reading it. An incredible debut. -- Nikki Smith
In Memoriam is magnificent-dazzling and wrenching, witty and wildly romantic, with echoes of Brideshead Revisited and Atonement. I loved it -- Lev Grossman, author of THE MAGICIANS
Extraordinary. A truly epic tale of love unspoken, love shared and love lost. An instant and unforgettable classic * A.J. West *
An astonishingly confident and impressive debut, this love story set in the First World War is shocking, brutal, and memorable. It left me shaken - and very impressed -- Lucy Atkins
Winn's superb debut chronicles a romance between two English boarding school classmates during WWI . . . both men grapple with the realities of war, which Winn vividly renders with descriptions of the wounded . . . . Amid the chaos, Winn stages excellent action scenes: a tense scouting mission, as well as a tunnel-digging episode involving an escape from a German POW camp. The hunger the men feel, as well as their shell shock, is palpable, but it is the men's love for each other that resonates. This is a remarkable achievement. * Publishers Weekly, starred *
Winn's finely accomplished debut novel is a rare thing, an intoxicating romance and an impossible-to-put-down war story in one . . . Winn captures the war as it looked, sounded, and smelled, but the ultimate death-defying acts here are in literature, breathtaking bravery, and love * Booklist, starred *
Powerful, deeply imagined . . . One of the wonderful aspects of Winn's debut is that, just when you think you've settled into a tender literary novel, its revelations and surprises begin to unfurl at an impressive pace that reads more like a thriller . . . Winn's battle scenes are hair-raising and terrifying, but her portraits of Sidney and Henry are intimate and evocative . . . A love story that's hard to forget * Kirkus Reviews, Starred Review *
ISBN: 9780241567821
Dimensions: 224mm x 144mm x 35mm
Weight: 499g
400 pages