One Small Voice
An Observer best debut novel for 2023
Format:Hardback
Publisher:Penguin Books Ltd
Published:23rd Feb '23
£14.99
Available for immediate dispatch.
This hardback is available in another edition too: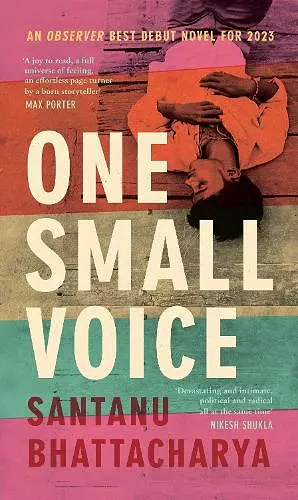 AN OBSERVER BEST DEBUT NOVEL FOR 2023

'A joy to read, a full universe of feeling, an effortless page-turner by a born storyteller' Max Porter, author of Grief is the Thing with Feathers

'Devastating and intimate, and political and radical all at the same time. Bhattacharya'sstorytelling talents are limitless' Nikesh Shukla

'Exceptional ... you have complete faith that Bhattacharya will take you to all the right places. Heartbreaking and yet so full of hope' Melody Razak, author of Moth
____________________________________________

India, 1992. The country is ablaze with riots. In Lucknow, ten-year-old Shubhankar witnesses a terrible act of mob violence that will alter the course of his life: one to which his family turn a blind eye.

As he approaches adulthood, Shabby focuses on the only path he believes will buy him an escape - good school, good degree, good job, good car. But when he arrives in Mumbai in his twenties, he begins to question whether there might be other roads he could choose. His new friends, Syed and Shruti, are asking the same questions : together, buoyed by the freedom of the big city, they are rewriting their stories.

But as the rising tide of nationalism sweeps across the country, and their friendship becomes the rock they all cling to, this new life suddenly seems fragile. And before Shabby can chart his way forward, he must reckon with the ghosts of his past . . .

Dazzling and deeply moving, One Small Voice is a novel of modern India: of violence and prejudice, friendship and loyalty, community and tradition, and of a young man coming of age in a country on fire.
____________________________________________

'A compassionate, many-layered chronicle of trauma and recovery following mob violence in contemporary India, One Small Voice is a wonderful, timely contribution to world literature' Tsitsi Dangarembga, author of This Mournable Body

'Bhattacharya has the enviable ability to create a cast of characters that feel as real as any person I've met. His effortless writing sings on the page, and by the time you get to the end, you'll wish you didn't have to leave his mind so soon' Kasim Ali, author of Good Intentions

'Whilst the plot turns on...
Epic in scope and yet composed of intimate moments ... One Small Voice will be one of the best debuts this year * Guardian *
[A] diverse, original take on contemporary India ... [A] hugely engaging novel written with verve, intelligence and compassion * Irish Times *
[A] beautiful coming-of-age novel * Observer, Meet the 10 Best Debut Novelists for 2023 *
An intoxicating portrait of modern India, riven with internal political and cultural tensions, caught precariously between its colonial past and its ruthlessly modernising future ... Terrific * Daily Mail *
Epic ... Guided by an intimate trajectory... Bhattacharya is a vivid andhumane storyteller with a talent for encapsulating the social in the personal * Sydney Morning Herald *
A joy to read, a full universe of feeling, an effortless page-turner by a born storyteller * Max Porter *
Devastating and intimate, and political and radical all at the same time. Bhattacharya's storytelling talents are limitless * Nikesh Shukla *
A compassionate, many-layered chronicle of trauma and recovery following mob violence in contemporary India, One Small Voice is a wonderful, timely contribution to world literature * Tsitsi Dangarembga, author of This Mournable Body *
Exceptional ... Bhattacharya gives us India in all its messy glory ... Heartbreaking and yet so full of hope * Melody Razak, author of Moth *
Bhattacharya has the enviable ability of creating a cast of characters that feel as real as any person I've met. His effortless writing sings on the page * Kasim Ali, author of Good Intentions *
Whilst the plot turns on our capacity for cruelty, Bhattacharya's book brims with compassion. A novel about the complexities of adulthood, and the shame we all carry, that is both fearless and kind * Clare Pollard, author of Delphi *
Thrilling ... Bhattacharya writes beautifully about friendship, family and the devastating consequences of secrecy and shame in a narrative that powerfully evokes the complexities of coming of age in modern India * Ben Fergusson, author of Tales from the Fatherland *
Emotional and bold ... A rare voice that rewards us with hope and recognition * Tice Cin, author of Keeping the House *
ISBN: 9780241582336
Dimensions: 222mm x 144mm x 36mm
Weight: 514g
400 pages