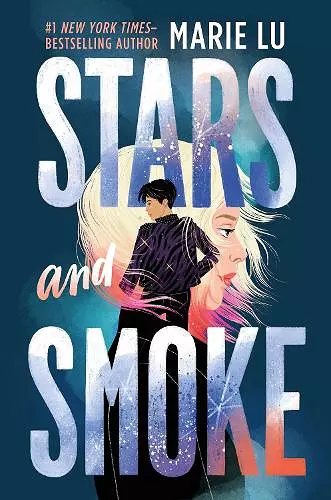 *A brand-new book from bestselling author of the Legend series, Marie Lu!*

'A propulsive and thrilling joyride from start to finish I haven't smiled through a mystery like this since Knives Out.' Adam Silvera, author of They Both Die at the End

'Sexy, funny, action-packed, full of killer characters ready to break your heart and look good doing it.' Leigh Bardugo, bestselling author of Six of Crows

*

The most famous person in the world is going undercover . . .

Global phenomenon Winter Young is the pop star of a generation. With sell-out tours and smash-hit records, everyone wants him, or wants to be him.

That's why a top-secret government organisation think he'll make the perfect spy.

His target is infamous business tycoon, and all-round bad guy, Eli Morrison. Because Morrison's daughter has just one birthday wish: a private concert with Winter Young.

Winter must use his stardom to crack his target's inner circle and bring Morrison down. With him will be expert spy, and expert bad-ass, Sydney Cossette - and she's convinced Winter doesn't have what it takes.

But as the stakes get higher and the tension ramps up, Sydney and Winter might find their best chance is each other . . .

Love, fame, and double-crossing infiltrate this thrilling book from the internationally bestselling author of the Legend series, Marie Lu.
STARS AND SMOKE is a propulsive and thrilling joyride from start to finish about the world's most famous superstar doubling as a spy, brought to life by superstar author Marie Lu. The dynamic romance will have your heart racing just as much as the mission itself. I haven't smiled through a mystery like this since Knives Out. * Adam Silvera, #1 New York Times bestselling author of They Both Die at the End *
Sexy, funny, action-packed, full of killer characters ready to break your heart and look good doing it. Marie Lu always delivers. * Leigh Bardugo, #1 New York Times bestselling author *
Stars and Smoke is thrilling and wonderfully romantic and so much more than that. There is wisdom and real emotional depth pulsing through these pages that's as gripping as the plot itself. * Nicola Yoon, #1 New York Times bestselling author of Everything, Everything *
At once thrilling and poignant, STARS AND SMOKE is a brilliant, breathtaking ride that will leave you clamoring for the sequel. Marie Lu is a powerhouse at the top of her game. She never misses. * Tahereh Mafi, New York Times bestselling author of the Shatter Me Series *
A classic covert caper from one of YA's brightest stars. If you ever wondered what would happen if a pop star joined The Kingsmen, this is the book for you. * Ally Carter, New York Times bestselling author *
A heart-racing spy thriller with a deeply romantic core, STARS AND SMOKE pairs the glamor of pop stardom with the grime of a criminal underworld?a combination that leads to serious sparks between the two deeply vulnerable and steamy leads. Marie Lu has done it again with an unputdownable, gorgeously written spy caper that will have you rooting for the spies to just kiss already. * Maurene Goo, acclaimed author of Somewhere Only We Know and Throwback *
Stars and Smoke is a nail-biting thriller and a breathless romance, a keen character study and a wildly entertaining international caper. Told with Marie Lu's unmistakeable thoughtfulness and wit, it takes us from Los Angeles to London with characters so charming and wounded and well-crafted that you'll want them to walk off the page. * Sabaa Tahir, #1 New York Times bestselling author of the Ember in the Ashes series and National Book Award Winner All My Rage *
An engrossing thriller that centers the characters at its heart. * Kirkus *
ISBN: 9780241646533
Dimensions: 242mm x 165mm x 32mm
Weight: 539g
336 pages