Jonathan Swift
The Reluctant Rebel
Format:Paperback
Publisher:Penguin Books Ltd
Published:26th Oct '17
Currently unavailable, and unfortunately no date known when it will be back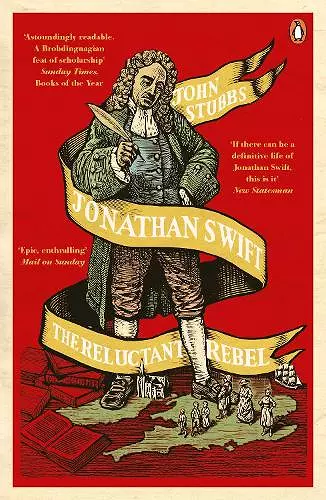 A rich and riveting portrait of the man who wrote Gulliver's Travels.
Jonathan Swift was a man of contradictions: a man who satirized the powerful but aspired to political greatness, who mocked men's vanity but held himself in high esteem, a religious moralizer famed for his malice - a man sharply aware of humanity's flaws, but no less susceptible to them.

As with his acclaimed biography of John Donne, John Stubbs paints a vivid portrait of an extraordinary man and a turbulent period of English and Irish history.
Stubbs succeeds in offering something delicate, subtle and new. ... In [this] fine and sensitive book, Stubbs restores Swift's writing to its rich religious and cultural contexts without diminishing its autonomy -- Ruth Scurr * Financial Times *
Stubbs is an ideal guide to the tortuous ins and outs of Swift's time, an age defined by its political and religious conflicts, and their effects on his writing. * Daily Telegraph *
In this superb biography, Stubbs succeeds in enabling us to understand the complexities and character of this greatest of writers * The Times Book of the Week *
John Stubbs handles the intensely complicated political and historical background to Swift's life with admirable deftness and clarity. There have been dozens of lives of Swift. This one, unlike some of its predecessors, is readable, sane, alert and beautifully observed -- Freya Johnston * Literary Review *
Stubbs goes further than any [biographer] previously in recreating the world Swift lived and exploring the duality of his character. ... [Along] with beautifully crafted lines... Another feature of Stubb's biography is its vast historical scholarship. As well as giving us a thoroughly credible Swift, this is a riveting account of English and Irish life in the late 17th and early 18th centuries. If there can be a definitive life of Jonathan Swift, this is it -- John Gray * New Statesman *
Stubbs offers a kinder, rather admiring inspection of the great fighter and ruthless truth-teller -- John Walsh * Sunday Times *
Impressive [and] astoundingly readable * The Sunday Times *
An entertaining and ambitious work that intelligently binds together the art and the politics of mid-17th-century England -- Charles Spencer on 'Reprobates' * Financial Times *
On fire with ideas and enthusiasm, excels at providing Donne with a living context -- Miranda Seymour on 'John Donne' * Sunday Times *
Highly readable, dashing as well as detailed -- Andrew Motion on 'John Donne' * Guardian *
ISBN: 9780241962893
Dimensions: 198mm x 129mm x 32mm
Weight: 523g
768 pages