Folk Music
A Bob Dylan Biography in Seven Songs
Format:Hardback
Publisher:Yale University Press
Published:11th Oct '22
£20.00
Available for immediate dispatch.
This hardback is available in another edition too: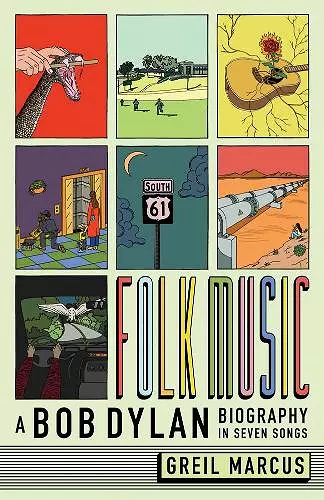 Acclaimed cultural critic Greil Marcus tells the story of Bob Dylan through the lens of seven penetrating songs
 
"The most interesting writer on Dylan over the years has been the cultural critic Greil Marcus. . . . No one alive knows the music that fueled Dylan's imagination better. . . . Folk Music . . . [is an] ingenious book of close listening."—David Remnick, New Yorker
 
Named a Best Music Book of 2022 by Rolling Stone
 
"Further elevates Marcus to what he has always been: a supreme artist-critic."—Hilton Als
 
Across seven decades, Bob Dylan has been the first singer of American song. As a writer and performer, he has rewritten the national songbook in a way that comes from his own vision and yet can feel as if it belongs to anyone who might listen.
 
In Folk Music, Greil Marcus tells Dylan's story through seven of his most transformative songs. Marcus's point of departure is Dylan's ability to "see myself in others." Like Dylan's songs, this book is a work of implicit patriotism and creative skepticism. It illuminates Dylan's continuing presence and relevance through his empathy—his imaginative identification with other people. This is not only a deeply felt telling of the life and times of Bob Dylan but a rich history of American folk songs and the new life they were given as Dylan sat down to write his own.
"The most interesting writer on Dylan over the years has been the cultural critic Greil Marcus. . . . No one alive knows the music that fueled Dylan's imagination better. Marcus just published Folk Music: A Bob Dylan Biography in Seven Songs. It's [an] ingenious book of close listening."—David Remnick, New Yorker

"A poignant reminder of everything Trumpism had tried to destroy. His dissections of these songs . . . are thorough and well-referenced." —Paul Genders, Times Literary Supplement

"A book filled with genuine insights. . . . 'Blowin' in the Wind,' the anthem that transformed a little-known folk singer into the conscience of a nation, is exhibit A for Mr. Marcus's theory of empathy. . . . Mr. Marcus is at his best in exploring this rootedness."—The Economist

"Marcus . . . has written more and better about Dylan than just about anyone, most recently in Folk Music."—Carl Wilson, Slate

"Marcus keeps chasing America's greatest songwriter down the highway. It's cultural criticism as a long-running detective story—and a musical love story."—Rob Sheffield, Rolling Stone, "Best Music Books of 2022"

"The book's openness restores a sense of existential unity, of a whole in which everything has a place and plays a part."—Devin McKinney, Critics at Large

"A perfect storm of things to love: American history, music history, Dylan's music and beautiful writing. The style is colloquial, but not informal; informative but not didactic, and downright seductive to follow. . . . His in-depth analysis of the songs themselves is unmatched."—Anne Margaret Daniel, Spectator

Featured in Globe and Mail's "Best Books to Gift This Year"

"Marcus tends to a hyperbolic style, producing a slightly febrile mood, appropriate to the events being related. He also uncovers, or produces, hidden connections between apparently disparate things."—David McCooey, New Daily

"Marcus' profound expertise in the American cultural landscape blasts open new fissures in our understanding of this most mythologised of singer-songwriters. . . . The reader comes away marvelling at what Bob Dylan has done with such a violent cultural inheritance, and also at how enmeshed the beauty of the songs are with the brutality in life."—Gregory Day, Sydney Morning Herald

"In elaborating Dylan's musical journey Marcus puts on display a vast knowledge of America's popular culture and a sardonic recognition of the flaws in our national character—flaws such as racial injustice and wealth inequality that folk music tries to address. The book is fast-paced, like a song, and hip. . . . [Marcus] closes on an elegiac note punctuated with love. 'What will go out of the world with him?'"—Arthur Hoyle, New York Journal of Books

"The biography, Marcus seems to reason, must emerge prismatically, if at all, through Dylan's core achievement: the songs themselves. . . . It might be his most resonant tribute to His Bobness: a primer in how seriously to take major art and how to live alongside it in real time, delivered with an idiosyncrasy and crooked grace worthy of its subject."—Martin Herbert, Art Review

"This is an absorbing overall read and Greil Marcus is arguably the best rock culture writer around."—Tony Jasper, Methodist Recorder

"[A] joyously circumlocutory voyage around the Bard of Hibbing."—Danny Eccleson, MOJO

"Greil Marcus tells this great artist's story through seven of his most transformative songs—a selection that will inevitably cause much debate amongst Dylanophiles."—Choice

"In Folk Music's interpretative brilliance, boundless energy and moral rage, Marcus honours his source. The discursive Dylanologist par excellence, the freewheelin' Greil Marcus."—Joseph Marlow, The Critic

"This is the good stuff: the stuff you can't usually get in books. Greil Marcus is already the most important chronicler of Dylan. But here he outdoes himself. This book is rich with deep understanding, with caustically funny commentary, and a psychoanalysis, much needed, of Bob Dylan and of America."—Rachel Kushner

"Decade after decade, Greil Marcus has proven himself to be not only a brilliant cultural critic about the music, lives, and stories that have helped shape contemporary American consciousness; he has also done much to articulate why our music has always stood at the axis of sound and politics. This book is not only a valuable addition to the canon, it further elevates Marcus to what he has always been: a supreme artist-critic."—Hilton Als

"Here is Greil Marcus at his most brilliantly insightful, eloquent, persuasive, brimming with information about Bob Dylan and his music, unique in his ability to combine the most candid sort of memoirist prose with truly inspired commentary. As Dylan 'sees himself' in his subjects, so Greil Marcus 'sees himself' in Dylan, the most original musical genius of our time, the perfect subject for the most original music critic of our time."—Joyce Carol Oates

"Greil Marcus's writing on Dylan constitutes one of the great living bodies of work by one mold-breaking creative mind interpreting the art and meaning of another. Dylan's multitudes find their champion in Marcus's critical exuberance."—Todd Haynes

"Marcus is unsurpassed in showing how Dylan reflected the cultural moment even as he changed it. This moving, personal, compelling book traces Dylan's complex relationship to American culture through some of Dylan's most iconic songs, enabling us to understand these songs in fresh ways while also giving us a profound history of how we understand ourselves."—Dana Spiotta
 
"Greil Marcus's writing on Bob Dylan is as essential as Dylan himself. Through the prism of Dylan's visionary genius, Marcus unveils a fascinating history of the soul of modern America."—Olivier Assayas


ISBN: 9780300255317
Dimensions: unknown
Weight: unknown
288 pages