The Hyacinth Girl
T. S. Eliot's Hidden Muse
Format:Hardback
Publisher:Little, Brown Book Group
Published:6th Oct '22
£25.00
Available for immediate dispatch.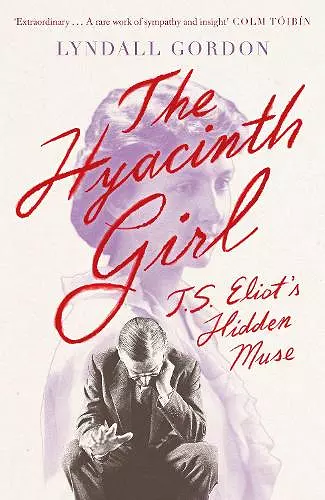 The revealing of the hidden muse - Emily Hale - the Hyacinth Girl of the famous The Waste Land poem - who influenced the life and art of T. S. Eliot. Over 1000 letters of his to her have only now been unlocked. Lyndall Gordon brings us a new way to view the great poet to coincide with the centenary publication of The Waste Land.
The revealing of T. S. Eliot's hidden muse - Emily Hale, the Hyacinth Girl of the famous The Waste Land poem

'Extraordinary... A rare work of sympathy and insight' Colm Tóibín
'Gordon sifts through the documents with her customary care and delicacy' Frances Wilson, Telegraph
'Thanks to Gordon's meticulous research and inspired storytelling we will never read [Eliot's] poems the same way again' Heather Clark
'Exquisitely nuanced' Kathryn Hughes, Sunday Times
'An illuminating account' Publishers Weekly
'As exciting as a detective story... Gordon establishes the profound influence [the relationship] had upon the substance and in particular upon the imagery of Eliot's work' Margaret Drabble, New Statesman

Among the greatest of poets, T. S. Eliot protected his privacy while publicly associated with three women: two wives and a church-going companion. This presentation concealed a life-long love for an American: Emily Hale, a drama teacher to whom he wrote (and later suppressed) over a thousand letters. Hale was the source of "memory and desire" in The Waste Land; she is the Hyacinth Girl.

Drawing on the dramatic new material of the only recently unsealed 1,131 letters Eliot wrote to Hale, leading biographer Lyndall Gordon reveals a hidden Eliot. Emily Hale now becomes the first and consistently important woman of life -- and his art. Gordon also offers new insight into the other spirited women who shaped him: Vivienne, the flamboyant wife with whom he shared a private wasteland; Mary Trevelyan, his companion in prayer; and Valerie Fletcher, the young disciple to whom he proposed when his relationship with Emily foundered. Eliot kept his women apart as each ignited his transformations as poet, expatriate, convert, and, finally, in his latter years, a man `made for love.'

Emily Hale was at the centre of a love drama he conceived and the inspiration for the lines he wrote to last beyond their...
Extraordinary... The Hyacinth Girl is a rare work of sympathy and insight. Lyndall Gordon's passionately intelligent engagement with the letters between T. S. Eliot and Emily Hale is matched by her close reading of Eliot's poems. Her ability to see both complexity and simplicity in the relationship between Eliot and Hale means that their entangled world comes fully alive in this brilliant book * Colm Tóibín *
Gordon sifts through the documents with her customary care and delicacy... [her] subtle readings never lose sight of the central mystery -- Frances Wilson * Telegraph *
Explores some of the most significant relationships of Eliot's life, and by shifting the focus to these women a less familiar Eliot emerges... in tracing Hale's life to its end, [Gordon] reminds us that she lived her own life * Spectator *
T.S. Eliot's oft-forgotten relationship with an American woman takes center stage in this illuminating account from Gordon ... it also treats the women in his life with dignity and goes a long way in reversing the erasure he attempted. Literature lovers, take note * Publishers Weekly *
There is no finer guide into the mind of T. S. Eliot than Lyndall Gordon... Thanks to her meticulous research and inspired storytelling we will never read [Eliot's] poems the same way again * Heather Clark, author of Red Comet: The Short Life and Blazing Art of Sylvia Plath *
Allows Gordon to find new coherence in Eliot's otherwise apparently fragmented interior life... Equally praiseworthy are Gordon's sensitive assessments of the other women who shaped Eliot's life * Booklist *
An astute portrait of Eliot... Gordon illuminates Eliot's writing through the prism of his correspondence with Emily Hale, demonstrating how central she is to a real understanding of the man and his work... A revelatory book' * Erica Wagner, author of Ariel's Gift: Ted Hughes, Sylvia Plath and the story of Birthday Letters *
Gordon is the first biographer to uncover the life of T. S. Eliot's hidden muse... [her] fairminded and declarative approach works perfectly for a story that gives the reader a shocked understanding of the way that a literary genius was ready to banish the women he loved when they no longer served his purpose... a work that will change the way Eliot is seen * Miranda Seymour, author of I Used to Live Here Once: The Haunted Life of Jean Rhys *
Exquisitely nuanced -- Kathryn Hughes * Sunday Times *
In The Hyacinth Girl, which is based on an incendiary cache of letters only recently released from their 14 steel-bound boxes, Gordon writes that when opened in January 2020 'detonated according to plan'... It is a tale of betrayal on a grand scale, and it is very well told... Gordon's account is as exciting as a detective story... She catches the drama brilliantly... Gordon establishes the profound influence [his relationship with Hale] had upon the substance and in particular upon the imagery of his work, lasting from The Waste Land through to Four Quartets -- Margaret Drabble * New Statesman *
In 1977, Gordon published Eliot's Early Years, a sharp-eyed book setting his work in the context of his life. The reviews were savage: one male New Statesman critic said it is was full of "gossip and memoirs... the result is a disaster". "I knew instantly that I wanted nothing more than to live to the day when the letters would be opened," says Gordon. She was there on 2 January 2020, aged 78, at Princeton's special collections room . The final line of her new book's introduction speaks volumes: "I was not disappointed." -- Jude Rogers * Observer *
One of the most refreshing things about The Hyacinth Girl is that Gordon doesn't glorify or put down Eliot... Gordon somehow manages to keep Eliot's poetry and prose central to the book, while maintaining a quiet but persistent moral authority * UK Time News *
[A] sensitive study of Emily Hale, Eliot's childhood sweetheart in America -- Books of the Year * Daily Telegraph *
Gordon is a writer of high intelligence and deep sensibility, with an earnest interest in truth and justice... These qualities, coupled with a moral seriousness that is never solemn, are evident throughout The Hyacinth Girl -- Richard Davenport-Hines * Literary Review *
Lyndall Gordon has always combined the precision of a literary scholar with the human insight of a biographer... The Hyacinth Girl is a revelation... A brilliant account of how great art has nothing to do with good behaviour -- Books of the Year * Tablet *
Gordon's work has two great strengths... She is sympathetic to all the women in Eliot's life [and] she shows the huge influence of Hale on Eliot's poetry * Church Times *
The Hyacinth Girl is not only insightful and important, but a moving account of an unfairly obscured life... Gordon's even-handedness allows her book to achieve both a necessary revisionism and a subtler, shrewder psychological portrait * Tablet *
The most brilliant and incisive new book on Eliot -- Colm Tóibín * Irish Times, Books of the Year *
Vibrant.... In narrating [Eliot's] romantic attachments, [Gordon] captures his manipulations, his selfishness, what she calls his 'cruelty,' without abandoning her mission to understand him and his writing... There is a human richness to Eliot's cerebral poetry that we can appreciate more in the context of his knotted emotional life, and Gordon's art is in drawing this out -- Katie Roiphe * New York Times *
A masterpiece... Gordon writes sympathetically about all Eliot's women... a feat of multi-dimensional life-writing... wonderfully illuminating * Daily Maverick *
ISBN: 9780349012117
Dimensions: 236mm x 160mm x 46mm
Weight: 820g
512 pages