Shirley Hazzard: A Writing Life
Format:Hardback
Publisher:Little, Brown Book Group
Published:17th Nov '22
£25.00
Available for immediate dispatch.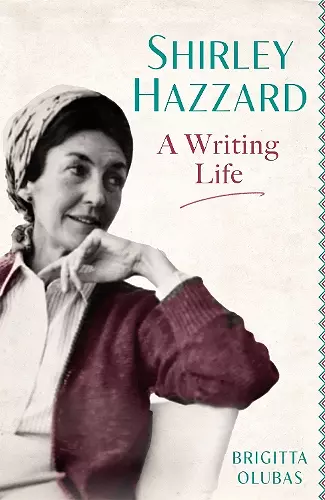 At last - the authorised biography of Shirley Hazzard, one of the greatest writers in the English language, author of The Great Fire,The Transit of Venus and Greene on Capri, winner of the National Book Award, the Miles Franklin Award and shortlisted for The Women's Prize for Fiction
The authorised biography of Shirley Hazzard, one of the greatest writers in the English language, author of The Transit of Venus and winner of the National Book Award

'Lambent, discerning, deeply intelligent and empathetic' Lucy Scholes, Financial Times
'Impeccably researched and deeply incisive' Lily King, New York Times
'A refined, deeply insightful perspective' Chloe Schama, Vogue
'Absorbing, well-crafted... scrupulously researched' Kirkus

Born and raised in Sydney Australia, Hazzard lived around the world: in Hong Kong; Wellington, New Zealand; New York; Naples and Capri and her writing -- cosmopolitan, richly intelligent, beautiful, questing -- reflects her life. Her body of work is small but the acclaim it attracts is immeasurable, from among others, Michael Cunningham, Zoe Heller, Ann Patchett, Anne Tyler, Lauren Goff, Hermione Lee, Joan Didion, Richard Ford, Colm Toibin.

At sixteen, she was living in Hong Kong with her family and working for the British Combined Services. She later worked, another desk job, for the United Nations in New York and, briefly, in Naples. Italy -- Capri and Naples -- claimed her heart and after she was married -- she was introduced to the biographer, Francis Steegmuller by Muriel Spark -- they divided their time between Italy and America.

Drawing on diaries, letters, interviews alongside a close reading of Hazzard's fiction -- Brigitta Olubas, herself Australian -- tells the story of a girl from the suburbs 'with a head full of poetry' who fell early under the spell of words and sought out first books and then people who loved books as her companions. In the process she transformed and indeed created her life. She became a woman of the world who felt injustice keenly, a deep and original thinker, who wrote some of the most beautiful fiction about love and longing, always with an eye to the ways we reveal ourselves to another.

This, the definitive biography uncovers the truths and myths and about Shirley...
Lambent, discerning, deeply intelligent and empathetic... illuminated by Olubas's understanding of the elemental, almost alchemical interplay between Hazzard's lived experience and her fiction... one of those rare biographies that sends one greedily back to the subject's work, better equipped to appreciate the richness on display -- Lucy Scholes * Financial Times *
An impeccably researched and deeply incisive account of Hazzard's life and work, and the intriguing interplay between the two -- Lily King * New York Times *
Olubas has a light touch; she presents the discrepancies between her diaries and letters without the need for invasive interpretation... She attends to Hazzard as only someone who loves her could, with generosity, fairness and a deeply human understanding -- Charlotte Stroud * London Magazine *
While evidently a champion of Hazzard's work, Olubas makes it clear that the writer had limitations, personal and professional... Olubas's biography demonstrates that for Hazzard poetry was the great, lasting force of self-rescue -- Declan Ryan * Spectator *
Superb... Strikingly well-placed and well-proportioned in its relation of a long life, and keeps a sound balance of youth and age, and books and life... Like and as befits her subject, Olubas comes with a gift for place and psychology * Times Literary Supplement *
Meticulously crafted... Olubas's biography is more than just a map of the author's movements... It's an account, as she puts it, of 'a writer in the process of making herself', chronicling how geographic, political, and psychic influences coalesce in a refined, deeply insightful perspective... This new account of Hazzard's life should confirm her as one of the 20th century's greatest novelists * Vogue *
Shirley Hazzard's life reads like something out of a Shirley Hazzard novel - precise, unique, lyrical and always riveting... If there is such a thing as a perfect literary biography, this is it * Daniel Torday *
Brigitta Olubas's definitive biography of Hazzard captures in abundance the idealism and ardor of a great cosmopolitan artist, radiant and indispensable * Benjamin Taylor *
What a tremendous gift to Shirley Hazzard's readers! The whole pageant is here in glorious, granular detail... Brigitta Olubas has unearthed a wealth of archival material, which she sifts with psychological acuity and a profound understanding of Hazzard's work... The result is intimate, proportionate and supremely compelling * Michelle de Kretser *
A woman raised in tumult seeks a higher realm in art and literature in this rich biography... Hazzard emerges as intelligent, complex and determined - fans of her work should check out this insightful portrait * Publishers Weekly *
An illuminating portrait... In this scrupulously researched biography, Olubas... charts the meandering course of Hazzard's life and travels, drawing on events and impressions that would inform much of her writing... Throughout, Olubas offers a discerning, cleareyed perspective of Hazzard's complex character and a persuasive appraisal of what distinguishes her work... An absorbing, well-crafted profile of a supremely gifted writer * Kirkus *
A new biography that reveals the life to be just as remarkable as the work, and both essential to the story of 20th century literature * The Critic *
Hazzard deserves every page of this insightful biography by Australian scholar Brigitta Olubas, who elegantly reweaves the facts and fictions of Hazzard's emotional and intellectual life, tracing her determined rise from the doldrums of postwar Sydney to the cultural heights of New York and Italy * Guardian *
An extraordinarily rich and detailed biography... a brilliant achievement... Her style reads at times like a Hazzard echo * The Conversation *
Hazzard has found an ideal chronicler in Brigitta Olubas, whose Shirley Hazzard: A Writing Life is an exemplary work of biographical criticism... She can capture small things, like Hazzard's tone of voice... But she's just as sharp on big things, like Hazzard's early tendency to fall, dramatically and disastrously, for married men * Baffler *
Immersive, exacting, glittering... From letters, diaries, notebooks, and friends' memories, Olubas has built a dense, powerful narrative with real momentum - as freighted with incident and portent as a work of Dickens * Boston Globe *
Peels back the layers and shines a light on where Hazzard began, who she became and what shaped her literary achievements... An insightful and engrossing book which expertly maps, celebrates and illuminates Hazzard's eventful life * Wall Street Journal *
Olubas constructs a fascinating portrait of Hazzard's early life in Australia, and throughout she weaves in astute suggestions of biographical experiences that influenced Hazzard's fiction... An impressive, revealing, and worthy biography of one of the most important writers of the last century * Booklist *
Extraordinary... Olubas's dedicated reading of Hazzard's diaries and papers, and those of others in her circles, has yielded an astute subtext of lived experience, literary and political influences... I read it in a rush of urgency and passion... I couldn't stop, and once I'd finished wanted immediately to return and reread the fiction... that is the mark of a successful literary biography * Sydney Morning Herald *
Brigitta Olubas's meticulous new account of Hazzard's life reads as a necessary corrective to prejudices about the author and her fiction... Olubas has managed to create an engaging narrative from a wide range of sources. Best of all, she has incorporated Hazzard's own versions of her life, both fictional and documentary, to create a character more interesting than we might have imagined * Inside Story *
ISBN: 9780349012889
Dimensions: 236mm x 160mm x 50mm
Weight: 940g
576 pages