Cosmos
The Story of Cosmic Evolution, Science and Civilisation
Format:Paperback
Publisher:Little, Brown Book Group
Published:11th Aug '83
£12.99
Available for immediate dispatch.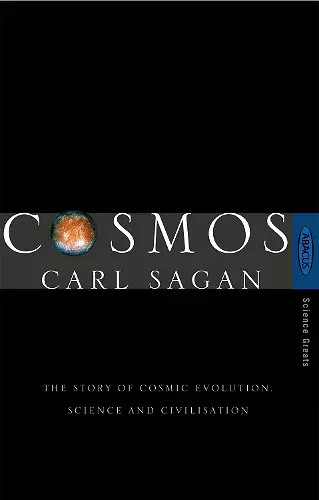 * The story of cosmic evolution, science and civilisation
* Spacecraft missions to nearby planets
* The Library of ancient Alexandria
* The human brain
* Egyptian hieroglyphics
* The origin of life
* The death of the sun
* The evolution of galaxies
* The origins of matter, suns and worlds

The story of fifteen billion years of cosmic evolution transforming matter and life into consciousness, of how science and civilisation grew up together, and of the forces and individuals who helped shape modern science. A story told with Carl Sagan's remarkable ability to make scientific ideas both comprehensible and exciting.
This book made me fall in love with physics, which - as I always hated science at school - is no mean feat. It looks at everything from ancient Egypt to the possibility of alien life. Pop science at its best -- Matt Haig
** 'Enticing, imaginative, readable, iridescent * The New York TIMES *
ISBN: 9780349107035
Dimensions: 129mm x 200mm x 28mm
Weight: 314g
416 pages