The Roommate
the TikTok sensation and the perfect feel-good sexy romcom
Format:Paperback
Publisher:Little, Brown Book Group
Published:15th Sep '20
£9.99
Available to order, but very limited on stock - if we have issues obtaining a copy, we will let you know.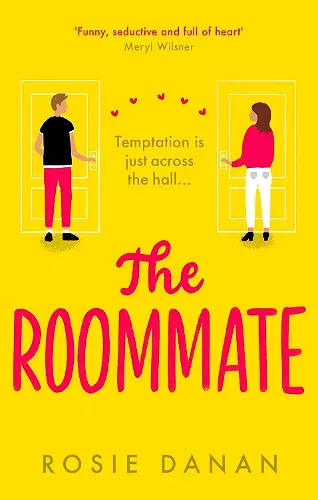 A fresh and funny romcom in which two unlikely roommates get more than they bargained for when the sparks that fly between them inspire a plan to launch a sexy, feminist start-up that risks more than just their hearts...
'Laugh-out-loud funny, bananas sexy, and deeply romantic' Andie J. Christopher

'This book IS PURE JOY' Christina Lauren

Clara Wheaton is the consummate good girl: over-achieving, well-mannered, utterly predictable. When her childhood crush invites her to move across the country, the offer is too good to resist. Unfortunately, it's also too good to be true.

Suddenly, Clara finds herself sharing a house with a charming stranger. Josh might be a bit too perceptive - not to mention handsome - for comfort, but there's a good chance he and Clara could have survived sharing a summer sublet if she hadn't looked him up on the internet . . .

Once she learns how Josh has made a name for himself, Clara realises living with him might destroy the reputation she's spent years building. But while they may not agree on much, both Josh and Clara believe women deserve better sex. What they decide to do about it will change both of their lives, and if they're lucky, they'll help everyone else get lucky too.

Love for The Roommate:

'Incredible . . . one of my top romance reads of 2020!' Jen Deluca, author of Well Met

'Funny, super steamy and surprisingly tender, The Roommate raises the bar for rom coms in 2020' Evie Dunmore, author of Bringing Down the Duke

'The Roommate is unapologetically sexy as hell. Danan's writing, like her characters, is funny, seductive, and full of heart' Meryl Wilsner, author of Something to Talk About

'A powerful, feminist book, that makes you laugh as hard as you cheer. The Roommate is sunshine in the form of a book' Alexa Martin, author of Snapped

'Warmly funny and gorgeously sexy, this porn-star romance is the most wholesome thing I've read in ages' The New York Times

'Rosie Danan's The Roommate is seriously sexy, seriously smart' Helen Hoang, USA Today bestselling author

'Wildly original and sexy romance . . . this delectable rom-com is both red-hot and...
What an incredible debut! Danan gives us strangers to annoyed-roommates to kinda-friends to angsty-pining to finally-lovers with humour, wit, and just a hint of pathos. Josh and Clara are easily my favourite 'smash the patriarchy' couple, and The Roommate is easily one of my top romance reads of 2020!
The Roommate is laugh-out-loud funny, bananas sexy, and deeply romantic. Danan's voice is fresh and sharp, and the romance between Clara and Josh is both sizzling hot and heartwarming. Everything I want in a romance
Nuanced, funny, super steamy and surprisingly tender, The Roommate raises the bar for rom coms in 2020 - a smashing debut, and I can't wait for more by Rosie Danan!
The Roommate is unapologetically sexy as hell. Danan's writing, like her characters, is funny, seductive, and full of heart. You're gonna love this book -- Meryl Wilsner, author of Something to Talk About
This book is GOLD * Frolic *
Rosie Danan not only created characters who you'll think about long after you're finished reading, but she wrote a powerful, feminist book, that makes you laugh as hard as you cheer. The Roommate is sunshine in the form of a book. I can't wait to see what Danan brings us next! -- Alexa Martin, author of Snapped
The Roommate is both hilarious and earnest, with off-the-charts tension and a sparkling, vibrant voice. Clara and Josh captured my heart from their first interaction. I loved every word of this steamy, empowering romance -- Rachel Lynn Solomon, author of Today, Tonight, Tomorrow
The Roommate is a book about people expanding into their best possible selves - about embracing pleasure, loving unabashedly and fighting exploitation and small-mindedness. Warmly funny and gorgeously sexy, this porn-star romance is the most wholesome thing I've read in ages * The New York Times *
Wildly original and sexy romance . . . This delectable rom-com is both red-hot and fiercely feminist * Publishers Weekly (starred review) *
One of the steamiest romances of the year. This is a downright revolutionary story about modern women owning their desire that features a respectable socialite embracing her new roommate's job as a sex worker (and a few other things, too) * Popsugar *
Rosie Danan's The Roommate is seriously sexy, seriously smart -- Helen Hoang, USA Today bestselling author
Genuinely swoonily romantic -- Rachel Hawkins, New York Times bestselling author
Fresh and different, a special, superbly written slow-burn -- Sarah Hogle, author of You Deserve Each Other
A deliciously fresh romance with strong characters and feminist themes * Kirkus Reviews (starred review) *
With humour and style reminiscent of Christie Craig or Susan Elizabeth Phillips, newcomer Danan is definitely an author to keep tabs on * Booklist *
This book IS PURE JOY. Feminist, irreverent, sexy, surprising. We loved it -- Christina Lauren, New York Times bestselling author of The Unhoneymooners
Incredibly sweet and romantic, The Roommate serves up a passionate but buoyant love story between two slightly lost people who figure out they have more to offer the world than they ever thought * Shelf Awareness *
Gloriously soft and joyful, a sex positive manifesto inside a deliriously romantic, wickedly shameless love story * Entertainment Weekly *
ISBN: 9780349427522
Dimensions: 196mm x 128mm x 26mm
Weight: 233g
336 pages