Olga Dies Dreaming
Format: Paperback
Publisher: Little, Brown Book Group
Published: 5th Jan '23
£9.99
Available, normally delivered within 3-6 days.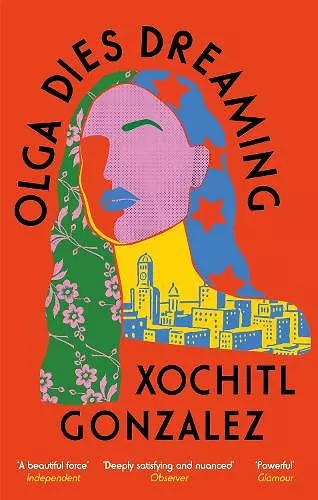 A dazzling debut about a status-driven wedding planner for New York's elite grappling with her absent mother and her Puerto Rican roots in the wake of Hurricane Maria
'Deeply satisfying and nuanced . . . a tender exploration of love in its many forms' Observer

'Gonzalez couples engrossing political intrigue with engagingly flawed characters you can't help but root for' Mail on Sunday

It's 2017, and Olga and her brother, Pedro 'Prieto' Acevedo, are bold-faced names in their hometown of New York. Prieto is a popular congressman representing their gentrifying, Latinx neighborhood in Brooklyn, while Olga is the tony wedding planner for Manhattan's power brokers.

Despite their alluring public lives, behind closed doors things are far less rosy. Sure, Olga can orchestrate the love stories of the one percent, but she can't seem to find her own . . . until she meets Matteo, who forces her to confront the effects of long-held family secrets.

Twenty-seven years ago, their mother, Blanca, a Young Lord-turned-radical, abandoned her children to advance a militant political cause, leaving them to be raised by their grandmother. Now, with the winds of hurricane season, Blanca has come barreling back into their lives.

Set against the backdrop of New York City in the months surrounding the most devastating hurricane in Puerto Rico's history, Olga Dies Dreaming is a story that examines political corruption, familial strife and the very notion of the American dream - all while asking what it really means to weather a storm.
The author cloaks her polemic in page-turning prose. This deeply satisfying and nuanced novel shines a light on political corruption and the limits of capitalism. It's also a study of the psychological fallout of poor parenting and a tender exploration of love in its many forms
* Observer *
There's so much to enjoy in this busy, Brooklyn-set debut
centred on a pair of middle-aged Latino siblings leading double lives . . .
Gonzalez couples engrossing political intrigue with engagingly flawed characters you can't help but root for
-- Mail on Sunday
A powerful, intra-cultural reckoning
with the very notions of sacrifice and survival * Glamour (best books for 2022) *
The extraordinary accomplishment of Olga Dies Dreaming is in how a familiar-enough tale - a woman seeking love, happiness, and fulfillment in the big city - slowly reveals itself to be something else altogether.
It's a book about a New York that isn't always celebrated, the one that belongs to immigrant communities; about money, class, and political power; about one vividly-imagined family and the very idea of the American Dream * Rumaan Alam, author of Leave the World Behind *
Olga Dies Dreaming
is the story of an imperfect family shattered by secrets, grief, and abandonment, and of people who rise up, refusing to be broken.
Smart, witty, and driven, Gonzalez's Olga hustles, stumbles, falls, and eventually finds her way.
An unflinching examination of capitalism, corruption, gentrification, colonialism, and their effects on marginalized people,
Olga Dies Dreaming
is
a poignant, scalding debut
* Jaquira Díaz, author of Ordinary Girls *
Wisdom, tenderness, and abundant humor
. . . I will think about its richly drawn, deeply human characters for a very long time * Cynthia d'Aprix Sweeney, author of The Nest and Good Company *
Gonzalez's stinging and knowledgeable commentary about the American sociopolitical order that keeps Black and brown people poor and powerless suggests that radical remedies are called for, even if she gives the personal dramas of her appealing main characters pleasingly hopeful final acts.
Atmospheric, intelligent and well informed: an impressive debut
* Kirkus *
Irresistibly warm yet entirely uncompromising
* The Skinny *
Don't underestimate this new novelist. She's jump-starting the year with
a smart romantic comedy that lures us in with laughter and keeps us hooked with a fantastically engaging story
* Washington Post *
Xochitl Gonzalez delivers
a healthy dose of tough love with her buzzy debut
* TIME *
Atmospheric
* i-D magazine (books to read in 2022) *
Olga is flawed and fallible, but gains in self-knowledge and integrity as she's buffeted by hurricane-force plot developments . . .
[a] rich, full-bodied saga
* Financial Times *
Compelling . . .
Gonzalez' debut speaks thoughtfully to the complicated and introspective diasporic experience, all while looking at how power structures can change a community, and the mixed feelings of pride and guilt that can come along with moving into a gentrified neighbourhood
* Refinery29 *
When you start reading
Olga Dies Dreaming
, you might think it is the Puerto Rican version of
Crazy Rich Asians
- but don't be fooled. While the expectations and manners of the rich are dissected in similar detail, class politics is front and centre . . . The writing is cinematic - a TV pilot is already being made in the US - it's packed with vivid vignettes of Brooklyn and Manhattan, and the characters have real warmth and depth.
You get both romantic and family relationships, together with the politics of what it is to be Latinx in a world where rich white people have the power
* Irish News *
The story's driving tension derives from questions of how to break free:
from a mother's manipulations, from shame, from pride indistinguishable from fear, from the traumatic burden of abandonment, from colonial oppression, from corrosive greed * New York Times *
A beautiful force
. . . Not your average story of two people looking for love. It is that, yes, but with political intrigue, social commentary, revolutionaries and mobsters, it is so much more * Independent *
Olga Dies Dreaming
proves the truth of that oft-quoted aphorism, "the personal is political."
Packed with richly imagined characters and vivacious prose,
the novel asks how we can live meaningful lives in a world rife with inequality. * Esquire Best Books of 20
ISBN: 9780349726700
Dimensions: 196mm x 126mm x 28mm
Weight: 303g
384 pages