Provenance
A new novel set in the world of the Hugo, Nebula and Arthur C. Clarke Award-Winning ANCILLARY JUSTICE
Format:Paperback
Publisher:Little, Brown Book Group
Published:10th Jul '18
£9.99
Available for immediate dispatch.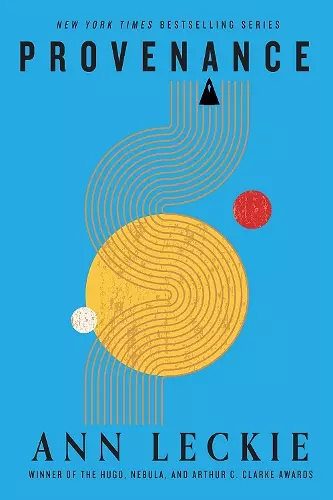 Ann Leckie's debut Ancillary Justice is the only book to ever win all three of science fiction's biggest awards (the Hugo, the Nebula and the Clarke) - now she's back with a powerful story of theft, privilege and birthright
SHORTLISTED FOR THE HUGO AWARD FOR BEST NOVEL 2018
SHORTLISTED FOR THE LOCUS AWARD 2018
SHORTLISTED FOR THE BSFA (BRITISH SCIENCE FICTION ASSOCIATION) AWARD 2018

'Excellent' Book Smugglers

'A fitting addition to the Ancillary world' NPR

'Gripping . . . richly detailed and rewarding' SciFiNow

'Thrilling, out-of-this world stuff' Stylist

Following her record-breaking debut trilogy, Ann Leckie, winner of the Hugo, Nebula, Arthur C. Clarke and Locus Awards, returns with a thrilling new story of power, theft, privilege and birthright.

A power-driven young woman has just one chance to secure the status she craves and regain priceless lost artefacts prized by her people. She must free their thief from a prison planet from which no one has ever returned.

Ingray and her charge will return to their home world to find their planet in political turmoil at the heart of an escalating interstellar conflict. Together, they must make a new plan to salvage Ingray's future, her family and her world, before they are lost to her for good.
Gripping . . . richly detailed and rewarding -- SCIFINOW
Excellent -- BOOK SMUGGLERS
A fitting addition to the Ancillaryworld -- NPR
Thrilling, out-of-this world stuff -- STYLIST
A fast-paced, moving and intellectually satisfying story of love and vengeance . . . It's by turns thrilling, moving and awe-inspiring -- GUARDIAN on ANCILLARY JUSTICE
A sharply written space opera . . . A gripping read -- SFX on ANCILLARY JUSTICE
A novel that will thrill you like the page-turner it is, but stick with you for a long time afterwards -- io9 on ANCILLARY JUSTICE
Winner of Audie Awards - Best Science Fiction Novel 2018 (UK)
Short-listed for Hugo Award Best Novel category 2018 (UK)
Short-listed for Locus Best Science Fiction Novel 2018 (UK)
ISBN: 9780356506982
Dimensions: 199mm x 141mm x 30mm
Weight: 330g
480 pages