House of Odysseus
The breathtaking retelling that brings ancient myth to life
Format:Hardback
Publisher:Little, Brown Book Group
Published:24th Aug '23
£18.99
Available for immediate dispatch.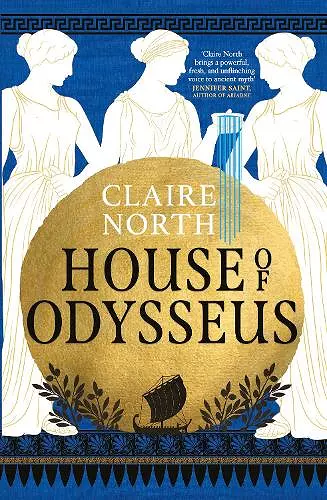 From the multi award-winning Claire North comes the second book in a trilogy of stories retelling of the classic Greek myth of Penelope. It's time for the women of Ithaca to tell their tale . . .
'CLAIRE NORTH BRINGS A POWERFUL, FRESH AND UNFLINCHING VOICE TO ANCIENT MYTH' Jennifer Saint, author of Sunday Times bestseller Ariadne

From the author of the critically acclaimed Ithaca - A Sunday Times Historical Fiction Book of the Year - comes an exquisite and gripping new tale that breathes life into ancient myth. This is the story of Penelope of Ithaca, famed wife of Odysseus, as it has never been told before.

On the isle of Ithaca, Queen Penelope maintains a delicate balance of power. Many years ago, her husband, Odysseus, sailed to war with Troy and never came home. In his absence, Penelope uses all her cunning to keep the peace - but this is shattered by the arrival of Orestes, king of Mycenae, and his sister Elektra.

Orestes's hands are stained with his mother's blood. Not so long ago, the son of Agamemnon took Queen Clytemnestra's life on Ithaca's sands. Now, racked with guilt, he is slowly losing his mind.

Penelope knows destruction will follow in his wake as surely as the Furies circle him. His uncle, Menelaus, the battle-hungry king of Sparta, longs for Orestes's throne - and if he can seize it, no one will be safe from his violent whims.

Trapped between two mad kings, Penelope fights to keep war from Ithaca's shores. Her only allies are Elektra and Helen of Troy, Menelaus's enigmatic wife. And watching over them all is the goddess Aphrodite, who has plans of her own.

Each woman has a secret. And their secrets will shape the world.

Praise for the Songs of Penelope series:

'Darkly fascinating, raw and breathtaking' Jennifer Saint, author of Sunday Times bestseller Ariadne

'Richly poetic . . . This is an impassioned plea for the lost, disenfranchised queens of ancient Greece, a love letter to the silenced women of history' Booklist

'Penelope is proving to be an outstanding epic hero in her own right. A sensational retelling' Elodie Harper, Sunday Times bestselling author of The Wolf...
Claire North brings a powerful, fresh and unflinching voice to ancient myth - darkly fascinating, raw and breathtaking' -- Jennifer Saint, author of SUNDAY TIMES bestseller ARIADNE
Like Penelope at her loom North both weaves and unweaves, teasing out the threads of Homeric myth to recombine them into something unique, wonderful and urgently contemporary -- M. R. Carey, author of THE GIRL WITH ALL THE GIFTS
North's talent shines out -- SUNDAY TIMES
North goes from strength to strength -- GUARDIAN
An original and even dazzling writer -- KIRKUS
In House of Odysseus, Claire North has done it again. A superb sequel to the brilliant Ithaca, this is another clever, vivid reimagining of myth told in her indomitable style - with wit, attention to detail and exquisite characterisation. The narrative voice of Aphrodite is absolute perfection, lending humour and tender insight to a high-stakes, thrilling game of political cat-and-mouse between Penelope and Menelaus as they battle for the fate of the island. Ancient myth becomes real and urgent, the world of the divine and the mortal expertly balanced throughout the unfolding twists and turns that will leave the reader eagerly anticipating the final instalment of the trilogy! * Jennifer Saint, author of SUNDAY TIMES bestselling ARIADNE *
Claire North has the most original voice - every page is an absolute joy. She had me laughing out loud (Aphrodite is such a wicked, irreverent narrator) and I was also very moved by her version of the Elektra/Orestes myth. I loved Ithaca but House of Odysseus is even better - Penelope is proving to be an outstanding epic hero in her own right. The world building is sensational. I cannot wait for the final book in the series! * Elodie Harper, SUNDAY TIMES bestselling author of THE WOLF DEN *
North's novels are triumphs of conception and execution * BOOKLIST *
There is something fateful about The Songs of Penelope trilogy: that this voice would come to this story, a pairing so perfect it was worth waiting a few thousand years for. North's writing is evocative, vibrant and delightfully witty - capable of rending your heart in two or clutching at your sides with only a few words from a scathing and surprisingly ardent godly-narrator. * Bea Fitzgerald, author of GIRL, GODDESS, QUEEN *
Richly poetic . . . This is an impassioned plea for the lost, disenfranchised queens of ancient Greece, a love letter to the silenced women of history * BOOKLIST on ITHACA *
Conjures up a world in which women, abandoned by their men, must weave their own destinies * THE TIMES on ITHACA *
Everything I've wanted in a retelling: a vibrant cast, full of suspense, told with a phenomenal narrative voice - this is an absolute masterpiece * Sarah Bonner, author of HER PERFECT TWIN on ITHACA *
Claire North has set a new standard for Ancient Greek retellings. Absolutely sublime * Hannah Lynn, author of ATHENA'S CHILD on ITHACA *
ISBN: 9780356516073
Dimensions: 238mm x 162mm x 44mm
Weight: 700g
432 pages