Looking back at Francis Bacon
Format:Paperback
Publisher:Thames & Hudson Ltd
Published:13th Jan '22
£30.00
Available to order, but very limited on stock - if we have issues obtaining a copy, we will let you know.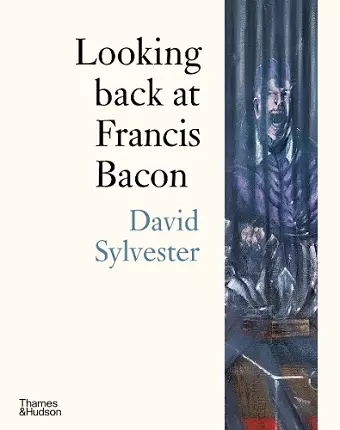 A unique portrait of one of the creative geniuses of the 20th century, by the distinguished critic David Sylvester.

Controversial in both life and art, Francis Bacon was one of the most important painters of the 20th century. His monumental, unsettling images have an extraordinary power to disturb, shock and haunt the spectator, 'to unlock the valves of feeling and therefore return the onlooker to life more violently'.

Drawing on his personal knowledge of Bacon's inspirations, intentions and working methods, David Sylvester surveys the development of the work from 1933 to the early 1990s, and discusses critically a number of its crucial aspects.

He also reproduces previously unpublished extracts from his celebrated conversations with Bacon in which the artist speaks about himself, modern painters and the art of the past. Finally, Sylvester gives a brief account of Bacon's life, correcting certain errors that elsewhere have been presented as facts.

Divided into the sections 'Review', 'Reflections', 'Fragments of Talk' and 'Biographical Note', Looking Back at Francis Bacon is a unique portrait of one of the creative geniuses of our age by a writer of comparable distinction.
'Highly enjoyable, and sealed with insider authority … a primary document of Baconology … Sylvester brings out what was lovable in his great friend' - Julian Bell, London Review of Books
'A measured look at the legacy of a great artist … Sylvester is Bacon's representative on this earth, a Boswell to his talk, a cicerone to his paintings' - Richard Shone, Guardian
'Reading David Sylvester on art is like being provided for a while with the ideal companion in one's gallery of choice' - The Art Newspaper
'An extended rumination on Bacon which throws a great deal of light, not only on what made the painter so good, but also on what makes Sylvester so good … as it is, it seems most unlikely that any text will ever get closer than this to the truth about Francis Bacon, as man and artist' - Martin Gayford, The Spectator
'A triumphant distillation of Sylvester's views on a painter he so rightly prized … Sylvester's ability to make illuminating comparisons is superb, and he never forgets that Bacon was also nourished by photography, film and poetry. Above all, though, Sylvester focuses on the paintings themselves. No writer on art scrutinizes the work itself more closely, intently and thoughtfully. He never loses sight of his own, deeply felt response, and conveys it in words that recreate the intensity of looking at Bacon's fierce, profoundly troubled paintings' - Richard Cork, The Times
'[Contains] long stretches of gossipy intellectual sustenance' - RA Magazine
'Every page offers something valuable. The reproductions are the best there are … anyone interested in Bacon will want this book' - Tom Lubbock, Evening Standard
'A very interesting volume, full of useful and illuminating reflections and personal reminiscences' - William Packer, Literary Review
'The best of the critic's studies of the artist … It's personal, retrospective and gloomy, combining art criticism with biography' - Tim Hilton, Independent on Sunday
'Mr Sylvester's book is an open invitation to look and look again … There is in Mr Sylvester's writing this complete simplicity that succeeds in placing an idea, not so much in the mind, as in the heart, and thereby frees the reader to have his or her own experience of Bacon … Of most books on Francis Bacon, Mr Sylvester's book stands head and shoulders above the rest' - Beate Perrey, The Art Newspaper
ISBN: 9780500296479
Dimensions: unknown
Weight: 1140g
272 pages