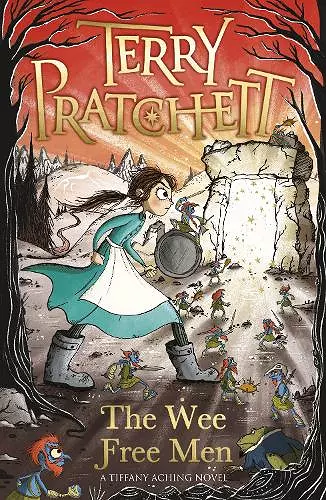 The first book in the Tiffany Aching series - five Discworld novels from master-storyteller Terry Pratchett.
And a witch has always protected Tiffany's land, to stop the nightmares getting through.

Now the nightmares have taken her brother, and it's up to her to get him back.

With a horde of unruly fairies at her disposal, Tiffany is not alone.
Tiffany wants to be a witch when she grows up.

A proper one, with a pointy hat. And flying, she's always dreamed of flying (though it's cold up there, you have to wear really thick pants, two layers).

But she's worried Tiffany isn't a very 'witchy' name. And a witch has always protected Tiffany's land, to stop the nightmares getting through.

Now the nightmares have taken her brother, and it's up to her to get him back.

With a horde of unruly fairies at her disposal, Tiffany is not alone. And she is the twentieth granddaughter of her Granny Aching: shepherdess extraordinaire, and protector of the land.

Tiffany Aching. Now there's a rather good name for a witch.


'Quite, quite brilliant'
Starburst

THE FIRST BOOK IN THE TIFFANY ACHING SERIES
Plenty to laugh at here, not least Pratchett's ability to put a 90 degree spin on the familiar * The Times *
A clear example of a comic fantasy classic and, well . . . Crivens! It deserves t'sell a millyun copies * Sunday Express *
A funny and thought-provoking fantasy, with powerfully visual scenes and characters that remain with readers. A glorious read * School Library Journal *
A clear example of a comic fantasy classic and, well . . . Crivens! It deserves t'sell a millyun copies * Sunday Express *
Plenty to laugh at here, not least Pratchett's ability to put a 90 degree spin on the familiar * The Times *
ISBN: 9780552576307
Dimensions: 198mm x 130mm x 20mm
Weight: 241g
336 pages