Toy Fights
A Boyhood - 'A classic of its kind' William Boyd
Format:Hardback
Publisher:Faber & Faber
Published:19th Jan '23
£16.99
Available for immediate dispatch.
This hardback is available in another edition too: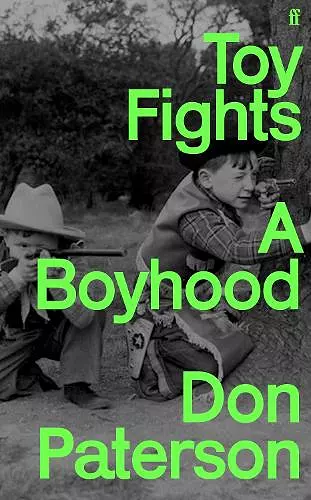 A future classic of memoir by one of the greatest writers at work today
A future classic of memoir by one of the greatest writersat work today
Exquisitely sharp, deeply humane and brutally hilarious, Toy Fights is a future classic from one of the greatest writers of his generation.

'Devastatingly funny.' Geoff Dyer
'Thought-provoking, hilarious, sardonic and scarily brilliant' Scotsman
'Laugh-out-loud funny' Herald on Sunday

This is a book about family, money and music but also about schizophrenia, hell, narcissists, debt and the working class, anger, swearing, drugs, books, football, love, origami, the peculiar insanity of Dundee, sugar, religious mania, the sexual excesses of the Scottish club band scene and, more generally, the lengths we go to not to be bored.

Don Paterson was born in Dundee, Scotland, in 1963. He spent his boyhood on a council housing estate. When he wasn't busy dreading his birthdays, dodging kids who wanted to kill him in a game of Toy Fights, working with his country-and-western singer dad, screwing up in the Boys' Brigade, obsessing over God, origami, The Osmonds, stamps, sex or Scottish football cards, he was developing a sugar addiction, failing his exams, playing guitar, falling in love, dodging employment and descending into madness. While he didn't manage to figure out who he was meant to be, the first twenty years of his life - before he took a chance, packed his guitar and boarded a train to London - did, for better or worse, shape who he would become.
ISBN: 9780571240272
Dimensions: 216mm x 135mm x 27mm
Weight: 492g
384 pages
Main