Being You
A New Science of Consciousness (The Sunday Times Bestseller)
Format:Paperback
Publisher:Faber & Faber
Published:1st Sep '22
£10.99
Available for immediate dispatch.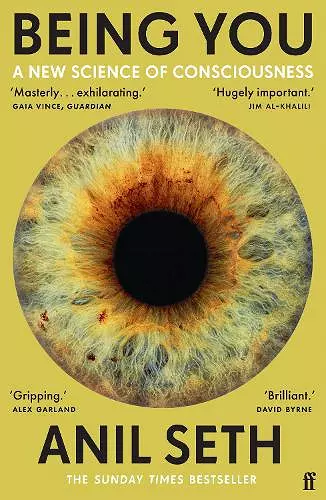 The Sunday Times bestselling Being You is an accessible, inspiring and eye-opening exploration of the brain by one of the most remarkable pioneers working in science today.
Anil Seth's radical new theory of consciousness challenges our understanding of perception and reality, doing for brain science what Dawkins did for evolutionary biology.
A BOOK OF THE YEAR
GUARDIAN, THE ECONOMIST, NEW STATESMAN, FINANCIAL TIMES, BLOOMBERG

Anil Seth's radical new theory of consciousness challenges our understanding of perception and reality, doing for brain science what Dawkins did for evolutionary biology.

'A brilliant beast of a book.' DAVID BYRNE

'Hugely important.' JIM AL-KHALILI

'Masterly . . . An exhilarating book: a vast-ranging, phenomenal achievement that will undoubtedly become a seminal text.'
GAIA VINCE, GUARDIAN

Being You is not as simple as it sounds. Somehow, within each of our brains, billions of neurons work to create our conscious experience. How does this happen? Why do we experience life in the first person? After over twenty years researching the brain, world-renowned neuroscientist Anil Seth puts forward a radical new theory of consciousness and self. His unique theory of what it means to 'be you' challenges our understanding of perception and reality and it turns what you thought you knew about yourself on its head.

'Seth thinks clearly and sharply on one of the hardest problems of science and philosophy, cutting through weeds with a scientist's mind and a storyteller's skill.'
ADAM RUTHERFORD

'A page-turner and a mind-blower . . . Beautifully written, crystal clear, deeply insightful.'
DAVID EAGLEMAN

'If you read one book about conciousness, it must be Seth's.
JULIAN BAGGINI, WALL STREET JOURNAL

'I loved it.' MICHAEL POLLAN
'Fascinating.' FINANCIAL TIMES
'Awe-inspring.' NEW STATESMAN
'Brilliant.' CLAIRE TOMALIN, NEW YORK TIMES
ISBN: 9780571337729
Dimensions: 198mm x 129mm x 22mm
Weight: 304g
368 pages
Main