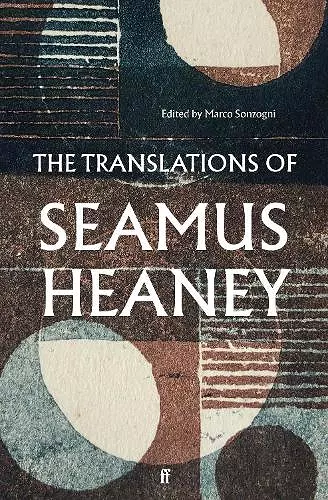 Brought together for the first time, Heaney's prize-winning book-length translations as well as the many individual poems in fourteen languages worked on and contributing to a glittering literary career
Seamus Heaney's translation of Beowulf (1999) was hailed as a masterpiece, alerting readers to his extraordinary ability to tune into other poets and languages and render their work fresh and alive in his own voice. In fact, as this volume attests, from the very beginning translation informed over fifty years of Heaney's critical and creative output, to which the posthumous publication of his translation of Virgil's Aeneid Book VI (2016) - also widely acclaimed - made a fitting epilogue.

Heaney not only translated classic works of Latin and Old English but also a great number of poems from Spanish, Romanian, Dutch, Russian, German, Scottish Gaelic, Czech, classical and modern Greek, modern and Middle French, medieval and modern Italian, and more. He was drawn in particular to the language of his homeland, a preoccupation that runs through this volume in those translations from Old, Middle and modern Irish. As he said: 'If you lived in the Irish countryside as I did in my childhood, you lived in a primal Gaeltacht.'

The breadth and depth in evidence here is extraordinary: from the stark landscapes of Sweeney's Ireland to Virgil and Dante's living underworlds, from monastic hymns and prayers to the civic and familial tragedies of Sophocles and Kochanowski.

As editor, Marco Sonzogni frames the translations with the poet's own writings on his works, drawing from various introductions, interviews and commentaries. Collectively we are brought closer to an understanding of the remarkable extent of Heaney's talent, a genius for interpretation and transformation that distinguish him as one of the great poet-translators of all time.
ISBN: 9780571342525
Dimensions: 240mm x 170mm x 60mm
Weight: 1170g
704 pages
Main