Meaty
Format:Paperback
Publisher:Faber & Faber
Published:2nd Jan '20
£9.99
Available to order, but very limited on stock - if we have issues obtaining a copy, we will let you know.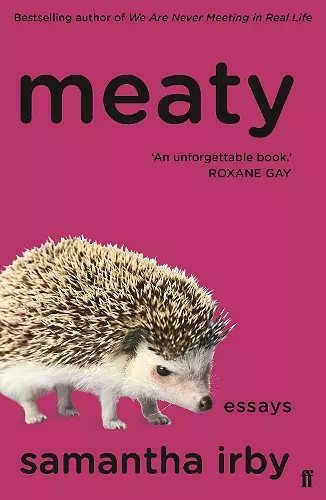 More wickedly funny essays from the author of We Are Never Meeting in Real Life
Smart, edgy, hilarious, and unabashedly raunchy New York Times bestselling author Samantha Irby explodes onto the printed page in her uproarious first collection of essays, published in the UK for the first time.**QUIETLY HOSTILE - THE HILARIOUS NEW BOOK FROM THE #1 NEW YORK TIMES BESTSELLING AUTHOR - IS AVAILABE TO PRE-ORDER NOW** ONE OF STYLIST'S BEST NEW BOOKS FOR 2020 'This is an unforgettable book.' Roxane Gay Meditations on the terror of love; tips for getting your disgusting meat carcass ready for some new, hot sex; a frank self-evaluation upon the occasion of one's 30th birthday; and, finally, the answer to the question on everyone's minds: Would dying alone really be so terrible? Blogger and comedian Samantha Irby covers it all with wit and honesty - and serves it with a side of Instagram frittata.
ISBN: 9780571349838
Dimensions: 198mm x 129mm x 16mm
Weight: 217g
272 pages
Main