This is a special Exclusive Bookplate Edition, and has very limited quantity available
The Farmer's Wife Exclusive Bookplate Edition
'True, unflinching, powerful, lyrical' Kate Mosse
Format:Hardback
Publisher:Faber & Faber
Published:31st Aug '23
£20.00
Available to order, but very limited on stock - if we have issues obtaining a copy, we will let you know.
This hardback is available in another edition too: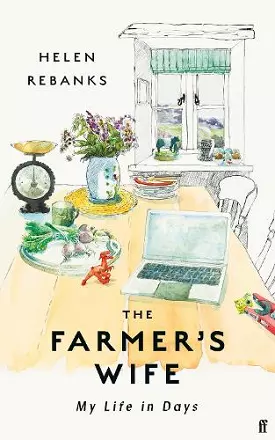 A gorgeous portrait of life at Helen Rebanks' Lake District farmhouse as well as a heartfelt and honest delve into the truth about the grind and the glory of keeping a home and raising a family today.
'It's quite an achievement to shine a light of truth on the often idealised, always understated, role of the farmer's wife.' RAYNOR WINN
'True, unflinching, powerful, lyrical' KATE MOSSE
'Very moving, real and true.' AMY LIPTROT
'Authentic and affecting.' SARAH LANGFORD
'Lovely, warm and real, it made me cry and cook and think. ' ELLA RISBRIDGER

A portrait of life at Helen Rebanks' Lake District farmhouse that beautifully captures the unsung work of keeping a home and raising a family.

As dawn breaks on the farm, Helen Rebanks makes a mug of tea, relishing the few minutes of quiet before the house stirs. Within the hour the sounds of her husband, James, and their four children will fill the kitchen. There are also six sheepdogs, two ponies, 20 chickens, 50 cattle and 500 sheep to care for. Helen is a farmer's wife. Hers is a story that is rarely told, despite being one we think we know.

Weaving past and present, Helen shares the days that have shaped her. This is the truth of those days: from steering the family through the Beast from the East and the local authority planning committee, to finding the quiet strength to keep going, when supper is yet to be started, another delivery man has assumed he needs to speak to the 'man of the house', and she would rather punch a cushion than plump it.

This beautifully-illustrated memoir, which takes place across one day at the farm, offers a chance to think about where our food comes from and who puts it on the table. Helen's recipes, lists and gentle wisdom helps us to get through our days, whatever they throw at us.
ISBN: 9780571370580-EB
Dimensions: 234mm x 153mm x 23mm
Weight: 600g
336 pages