This is a special Signed Edition, and has very limited quantity available
Weirdo Signed Edition
Format:Hardback
Publisher:Faber & Faber
Published:14th Sep '23
£14.99
Available for immediate dispatch.
This hardback is available in another edition too: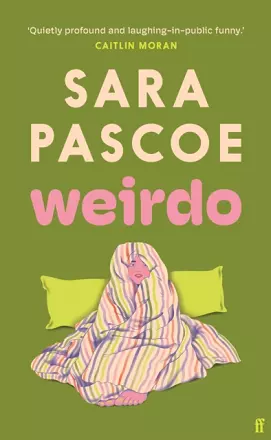 The debut novel from the bestselling and award-winning comedian, writer and actor Sara Pascoe. Weirdo follows Sophie; feverishly anxious and working hard to be happy in her own skin - if only life wouldn't make that so hard.
**AVAILABLE FOR PRE-ORDER NOW**

THE DEBUT NOVEL FROM THE BESTSELLING AND AWARD-WINNING COMEDIAN, WRITER AND ACTOR SARA PASCOE

'Quietly profound and laughing-in-public funny' CAITLIN MORAN
'Funny. . . the humour is always anchored in spot-on observation' ELIZABETH DAY
'An incredible read' AISLING BEA
'I loved every page' NATHAN FILER
'A tragicomic masterpiece' DAISY BUCHANAN
'A tremendously exciting voice.' The Times

"I USED TO THINK MY MUM COULD SEE ME THROUGH THE CAT"

Deep in Essex and her own thoughts, Sophie had a feeling something was going to happen and then it did. Chris has entered the pub and re-entered her life after Sophie had finally stopped thinking about him and regretting what she'd done.

Sophie has a chance at creating a new ending and paying off her emotional debts (if not her financial ones). All she has to do is act exactly like a normal, well-adjusted person and not say any of her inner monologue out loud. If she can suppress her light paranoia, pornographic visualisations and pathological lying maybe she'll even end up getting the guy she wants? Then she could dump her boyfriend Ian and try to enjoy Christmas.
ISBN: 9780571374526-S
Dimensions: 144mm x 225mm x 36mm
Weight: 476g
368 pages