Couplets
A Love Story
Format:Hardback
Publisher:Faber & Faber
Published:2nd Mar '23
£12.99
Available for immediate dispatch.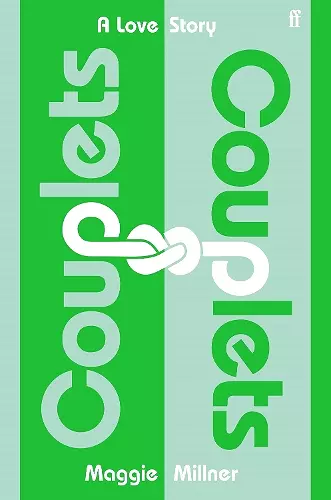 An electrifying love story about one woman's coming-out, coming-of-age, and coming-undone.
The book as a whole is an experimental-feeling yet unyielding love letter to precisely those kinds of questions.' Emma Specter, Vogue

'While desire is, no doubt, this book's throbbing taxi, Millner's consistent modulation of tone and perspective safeguards the book from the claustrophobia of erotic quest.
Advance Praise:

'I deeply adore this shattering, sexy, funny book.' Megan Nolan

'Totally compelling and brilliant. I couldn't put it down.' Cecilia Knapp

'A dazzling, feather-light tour de force-witty and effervescent and insightful, and so sexy, and so real.' Elif Batuman, author of Either/Or


Maggie Millner's seductive debut is a novel-in-verse about a woman in her late twenties who leaves a long-term relationship with a boyfriend for another woman. The affair thrusts her from an outwardly conventional life into queerness, polyamory, kink, and unalloyed, consuming desire. What ensues is an exploration of obsession, gender, identity-making, sexual experiment, and the art and act of literary transformation. Couplets is a dazzling fusion of form and content, chronicling the strictures, structures and pitfalls of relationships - the mirroring, the pleasing, the small jealousies and disappointments. Playful, clever, lovestruck, griefstruck, its narrator dances a tightrope of her own invention with captivating passion and skill.

'Couplets compelled me like a love affair-I didn't want to eat, didn't want to go to bed, didn't want to get off the subway, I just wanted to hear the story it was telling, which was, ultimately, a story about form-what are the forms (of intimacy, vocation, domesticity, verse, pleasure) we want to be held by, and to break free from? I cannot remember the last time I was this gripped by a voice or its questions. Reading it was a thrill, a rearrangement of my psychic molecules.' Leslie Jamison, author of Make It Scream, Make It Burn

'In this riveting debut, Maggie Millner makes the rhyming couplet-that supposedly staid, outmoded vehicle of 18th century moralism-an engine of radical metamorphosis and scorching sex. Couplets plunges us into desire so fierce it overwrites existence, exiling us from the lives we know. This is an endlessly inventive, wise, exhilarating book.' Garth Greenwell, author of Cleanness and What Belongs to You

From reviews:
'An astounding debut . . . This is a...
ISBN: 9780571376711
Dimensions: 206mm x 140mm x 15mm
Weight: 220g
112 pages
Main