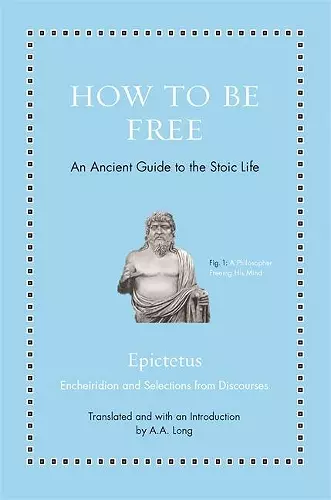 A superb new edition of Epictetus's famed handbook on Stoicism—translated by one of the world's leading authorities on Stoic philosophy

Born a slave, the Roman Stoic philosopher Epictetus (c. 55–135 AD) taught that mental freedom is supreme, since it can liberate one anywhere, even in a prison. In How to Be Free, A. A. Long—one of the world's leading authorities on Stoicism and a pioneer in its remarkable contemporary revival—provides a superb new edition of Epictetus's celebrated guide to the Stoic philosophy of life (the Encheiridion) along with a selection of related reflections in his Discourses.

Freedom, for Epictetus, is not a human right or a political prerogative but a psychological and ethical achievement, a gift that we alone can bestow on ourselves. We can all be free, but only if we learn to assign paramount value to what we can control (our motivations and reactions), treat what we cannot control with equanimity, and view our circumstances as opportunities to do well and be well, no matter what happens to us through misfortune or the actions of other people.

How to Be Free features splendid new translations and the original Greek on facing pages, a compelling introduction that sets Epictetus in context and describes the importance of Stoic freedom today, and an invaluable glossary of key words and concepts. The result is an unmatched introduction to this powerful method of managing emotions and handling life's situations, from the most ordinary to the most demanding.
"One of Michael Dirda's Best Books of 2018"
"Princeton University Press's new edition of Epictetus's Encheiridion and selected Discourses, titled How to Be Free: An Ancient Guide to the Stoic Life, is the latest entry in a wave of works, both popular and scholarly, on Stoicism. . . . How to Be Free seeks to bridge the worlds of both kinds of readers. Translated and introduced by Long, a renowned scholar of Stoicism and classics professor at UC Berkeley, the work presents the Greek text and English translation on facing pages. While the original text is, well, Greek to me, Long's translation is sharp and straightforward — qualities always associated with Epictetus's teachings."---Robert Zaretsky, Los Angeles Review of Books
"A remarkable insight."---Ryan Holiday, Medium
"Anybody who is about to go into a party or pool with people that are likely to try our patience can benefit from reading a couple of paragraphs from this book to reaffirm one's determination to remain stoic in this disheveled wilderness." * Pennsylvania Literary Journal *
"Any book that offers Stoic wisdom, whether diluted or updated, translated or condensed into bullet points, is meeting a perennial human need."---Rachel Hadas, Hudson Review
ISBN: 9780691177717
Dimensions: unknown
Weight: unknown
232 pages